There may be more than 250 Oregon state parks, covering 109,000 acres, but there are a few that are head and shoulders above the rest. These are the best state parks in Oregon, each and every one of them an awesome destination for outdoor activities, wildlife watching and camping.
You'll notice that many of the following state parks are on the Oregon Coast. That's because basically the entire coast is lined with parks. There are dozens of them. Add to that the fact that the coast of Oregon is among the most beautiful in the country and you know why many of the best Oregon state parks are along the Pacific Ocean.
It's not all about the coast, though. There are also a couple of world-class parks more inland. Near Bend and Salem, to be specific. Note also that all these parks—except for the number one in this list—are easily reached on a day trip from Portland.
7. Cape Lookout State Park
An hour and a half west of Portland lies Cape Lookout State Park. The park lies on a sand spit between the Pacific Ocean and Netarts Bay, its location offering spectacular ocean views and easy beach access.
One of the most well-known landmarks on the Oregon Coast is Cape Lookout State Park. The rugged rock formation juts out over 1 1/2 miles into the Pacific Ocean, with sheer cliffs that drop 400 feet.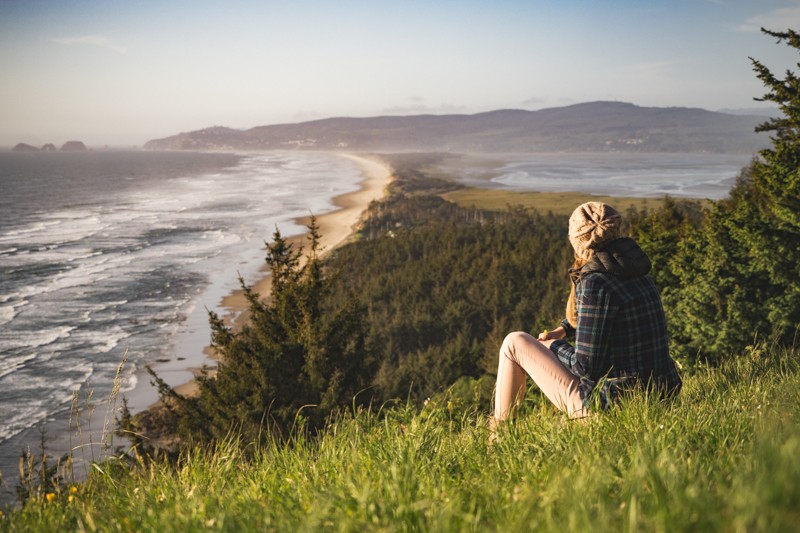 Popular activities include hiking and camping—there's a large campground just steps from the sandy beach. This is also a particularly good vantage point to see migrating whales in December and early spring.
Beachcombing is popular in this area, and the park is said to be a good place to find glass floats. A lush old-growth forest is crisscrossed by more than eight miles of hiking and walking trails. For more than two miles, the Cape Lookout trail follows the headland. At the end of the trail, there is a bench. Take in the scenery! You may see a whale or two, as well as other wildlife.
The nature (walking) trail is ideal for a quick outing. The nature trail allows you to get up close and personal with native trees and plants. A trail guide is linked to numbered markers. Another great option for walking at Cape Lookout is the beach, which extends for more than three miles from the base of Cape Lookout to the end of the Netarts sand spit. Keep an eye out for incoming tides, as some areas of the beach will disappear completely during high tide.
6. Ecola State Park
Home to nine miles of glorious coastline, cliffs, deserted beaches and sea stacks, Ecola State Park is one of the most popular state parks in Oregon. It lies just north of the Cannon Beach town center, a favorite day trip destination from Portland.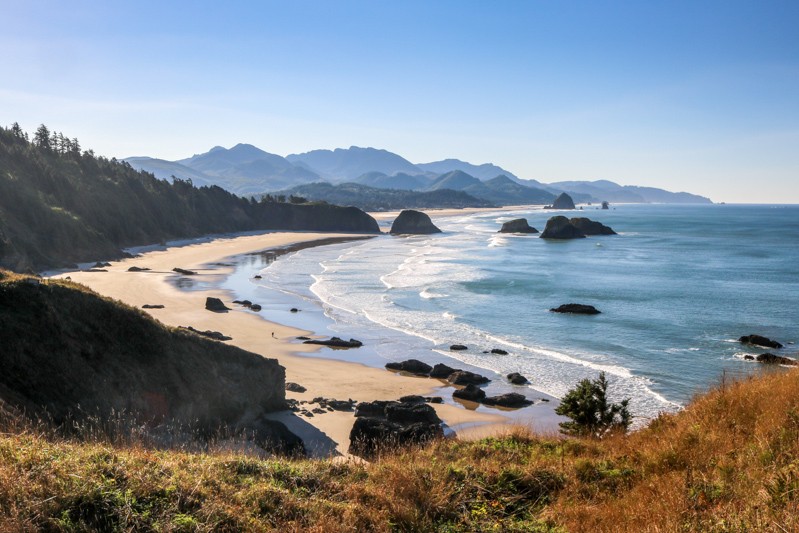 This is where you'll find one of the most iconic natural scenes in Oregon: the view from Ecola Point. There's no campground in this state park, but you'll find plenty of accommodation options in Cannon Beach.
Ecola State Park is a historic hiking and sightseeing destination. Ecola Point and Indian Beach are the park's two main attractions. Each has viewpoints and picnic tables to take advantage of the breathtaking scenery. The trails at Ecola Point provide views of the Tillamook Rock Lighthouse, rocky shores, and ocean vistas. Hiking trails in the park provide clifftop views of picturesque seascapes, cozy coves, and the rainforest-covered cape.
Cannon Beach is a popular vacation spot in the northwest, located just minutes from Ecola State Park. Cannon Beach is a great destination during your visit to the Oregon coast and Ecola State Park because it has a variety of dining options, shops, and near the area beaches. There are many places to stay in the area, including luxury hotels, inns, and bed and breakfasts.
5. Oswald West State Park
This is another of those amazing Oregon Coast state parks. Oswald West State Park stretches for four miles along the lush coast. Home to dense temperate rainforest, coastal mountains and beaches, this is one of the most spectacular state parks in Oregon.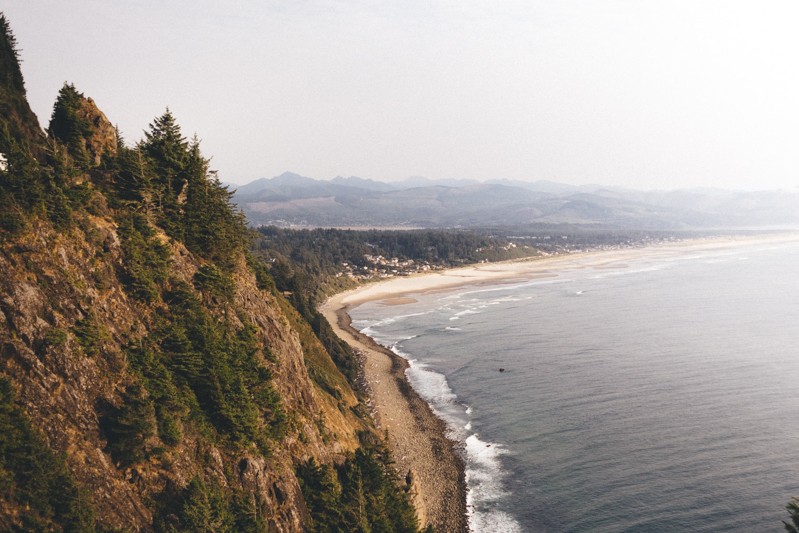 Oswald West State Park is located on a breathtaking stretch of coastline that features dramatic cliffs that drop dramatically to the sea, lush rainforests punctuated by open meadows teeming with birds and creatures, and a picture-perfect cove beach complete with waterfalls and babbling creeks. This stunning setting provides a number of iconic Oregon Coast experiences that should not be missed.
Neahkahnie Mountain, for example, makes for a great hike, its summit boasting commanding views of the coast. Other highlights are Short Sand Beach and one of the best-preserved patches of coastal rain forest in the state.
Hikers can see low growing ferns, salal, and salmonberries shaded by massive western red cedar, western hemlock, and Sitka spruce trees at Oswald West State Park, which is also considered one of the best preserved coastal rainforests. These trees serve as the foundation of the temperate coastal rainforest.
4. Smith Rock State Park
Towers of volcanic ash rise like cathedral spires from the sage and dust of the high desert at Smith Rock, the birthplace of American sport climbing. Whether you come for the climb or to relax, you'll see why Smith Rock is one of Oregon's Seven Wonders.
The only reason Smith Rock State Park is not ranked better on this list is the lack of a proper campground. Currently, the only place where you can set up camp is "the bivy," a basic tent area with shared facilities. In all other aspects, this is a sensational park, though.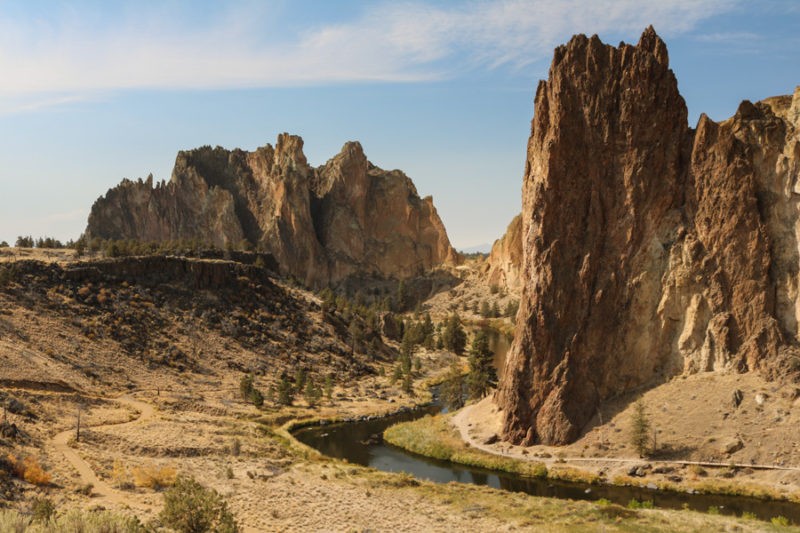 Featuring towering rock spires and sheer cliffs, Smith Rock is a rock climbing mecca, home to no fewer than 2,000 world-class climbing routes. This is without question one of the world's best places for sport climbing—some say that type of climbing was even invented here! Besides climbing, there's also fantastic hiking and horseback riding.
Smith Rock State Park is located about 26 miles northeast of Bend, near the communities of Redmond and Terrebonne. Its scenic views of deep river canyons and sheer tuff and basalt cliffs make it a popular destination for adventurers of all types, particularly rock climbers. Smith Rock, widely regarded as the birthplace of modern American sport climbing, is home to a multitude of cutting-edge climbing routes.
3. Fort Stevens State Park
Of all state parks on the Oregon Coast, Fort Stevens State Park is the best. This varied park has everything from historic sites to natural scenery and wildlife. Take some sunset photos at the iconic Peter Iredale shipwreck, watch for bald eagles at the mouth of the mighty Columbia River or visit historic military batteries in a former fort that was in use for 84 years from the Civil War to World War II.
Fort Stevens, located in the northwest corner of the state at the mouth of the Columbia River, has enough points of interest to keep you busy for several days, if not a week. It's simple to take a day trip out past Astoria to the 4,300-acre state park, but after that, you may regret not dedicating more time.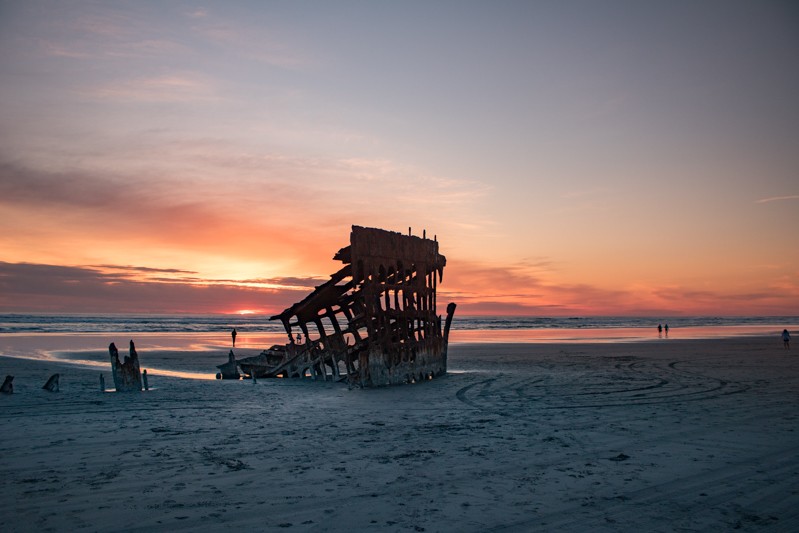 Fort Stevens is a diverse park with camping, beachcombing, freshwater lake swimming, trails, wildlife viewing, a historic shipwreck, and a historic military fort. There are also nine miles of paved bicycle trails and six miles of hiking trails in the park, which allow visitors to explore a variety of habitats such as spruce and hemlock forests, wetlands, dunes, and shore pine areas.
A huge campground and miles of hiking and biking trails make this a great place to spend a weekend. It's less than two hours from Portland.
Driving on the sand is permitted at Fort Stevens. There are approximately 20 miles of sand to drive on, with entry points at Peter Iredale Beach, Sunset Beach, Del Rey Beach, and Gearhart's 10th Street. In Gearhart, cars are not allowed to drive south of 10th Street. From May to September, the area between the Peter Iredale wreck and the South Jetty is also closed.
2. Silver Falls State Park
Called the crown jewel of the Oregon State Parks system, Silver Falls State Park is an extraordinary place. In the right conditions—a misty spring morning or fall afternoon—it's downright magical. The sprawling 9,200-acre property is located in the foothills of Oregon's Cascade Mountains, less than an hour east of the state capital of Salem. It is Oregon's largest and most popular state park.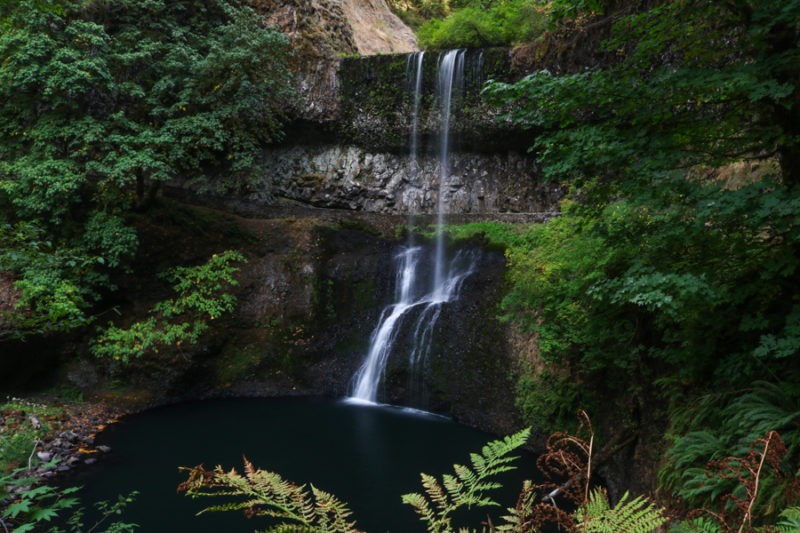 The star of the show here is the Trail of Ten Falls. As its name indicates, you'll pass by, sometimes even behind, 10 beautiful waterfalls on this 7.2-mile loop. Additionally, with its 9,200 acres, this is the largest Oregon state park.
Where else in the world can you walk behind a waterfall? See what a 177-foot curtain of water looks like from behind the famous South Falls. It is part of the Trail of Ten Falls, a breathtaking, widely renowned hiking trail that winds through a dense forested landscape. The trail goes to a winding creek at the forest floor after passing a series of spectacular waterfalls along a rocky canyon.
If you intend to camp at Silver Falls State Park, you should be aware of your options. The main Silver Falls campground is the best option for individuals and small groups looking to sleep in tents. Tent camping is permitted at 45 of the campground's 45 sites.
1. Samuel H. Boardman State Scenic Corridor
By now, you'll probably have realized the sheer beauty of the Oregon Coast. Yet, wait until you've laid eyes on the 12-mile-long coastline in the Samuel H. Boardman State Scenic Corridor! Throughout the park, seaside prairies, stunning vistas, isolated cove beaches, rugged cliffs, and wooded sea stacks follow one another. Consider the old shell middens and imagine what it was like to live in a Native American village near the Pacific Ocean.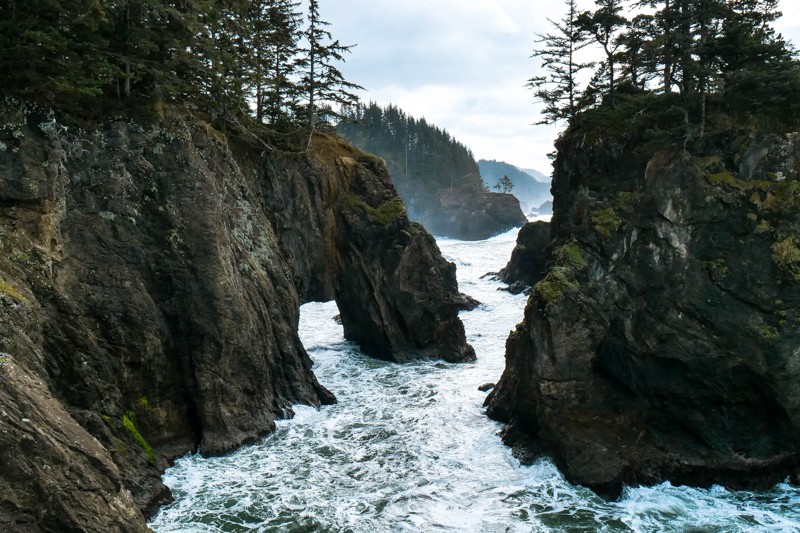 Located between Gold Beach and Brooking in the far southwestern corner of the state, this winding stretch of Highway 101 offers one spectacular view after the other. There are picnic areas, scenic viewpoints, hiking trails and phenomenal photo ops. Main highlights include the Natural Bridge, Cape Ferrelo Viewpoint and Arch Rock. In my opinion, this is easily the best state park in Oregon just because of its epic beauty.
This span of coastline is prized for its abundance of beautiful natural amenities, and it has a lot to offer the inquisitive day explorer. Among the treasures are 300-year-old Sitka spruce trees and a number of incredible natural rock formations such as Arch Rock and Natural Bridges. More than 14 creeks run the length the corridor as well. The original Oregon Coast Trail is 27 miles long and winds through forests and meadows, past picturesque scenery and rugged cliffs, and leads to secluded cove beaches and sea stacks covered with wind-sculpted trees.
If you're going camping, make sure you bring everything you'll need because there isn't anything provided. Even in the summer, it can get chilly, so make sure your sleeping bag isn't as thin as a sheet and that your tent won't blow away in a gust of wind.