Top 5 Weekend Getaways & Day Trips from Portland
In most cities, you'd have to drive hours to reach the great outdoors. Whether it's snowboarding or fishing, tons of outdoor recreation and beautiful coastline are right in Portland's backyard. 30 pound Sturgeon, big Steelhead and Salmon are found in the Columbia River. Fishing is great most of the year, an experience like no other once you hook that fish. Day trips to the beach, along with hiking in the Columbia Gorge are all places to ponder this awe-inspiring place.
Few American cities have such an abundance of nearby nature than Portland, Oregon. From the Cascades volcanoes to lush waterfalls, a spectacular coastline and pristine forests, there's something to do for everyone. If you like being outdoors, you'll certainly enjoy the following places to visit near Portland.
Although there are literally dozens of options for Portland excursions, these five stick out above the rest, simply because of how undeniably beautiful—even unique—they are.
5. Silver Falls State Park
If you like waterfall hikes, Silver Falls State Park may just be one of the greatest destinations in the entire U.S. The park's Trail of Ten Falls offers easy access to ten beautiful waterfalls and makes for a fantastic afternoon hike. Located about an hour south of Portland, it's a superb day trip destination. The best time of year to visit is fall, when the trees explode with color and rains increase the waterfalls' volume.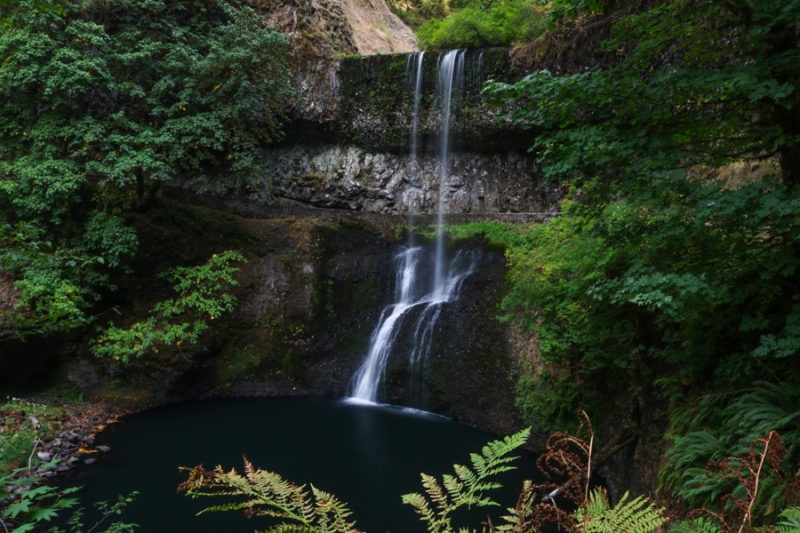 Its most famous feature, the 177-foot (54-meter) South Falls, is just a few steps from the South Falls Day Use Area. Visitors can take in the breathtaking scenery from above before going down into a cave behind the falls on the Maple Ridge Loop. More experienced hikers can take the 5-mile (8-kilometer) Winter Falls Loop, which takes them past seven unbelievable water features, including the two-tiered Double Falls. Expect to see a diverse range of flora and fauna, including butterflies, salamanders, rabbits, and deer.
4. Mount Rainier National Park
The national parks closest to Portland, Mount Rainier National Park one of the natural star attractions in the Pacific Northwest. The centerpiece is Mount Rainier itself, a massive volcano covered with glaciers, while gorgeous alpine meadows and old-growth forests run gently down its lower slopes. Worthy of a very long day trip, Mount Rainier National Park is without question one of the most spectacular places to visit near Portland.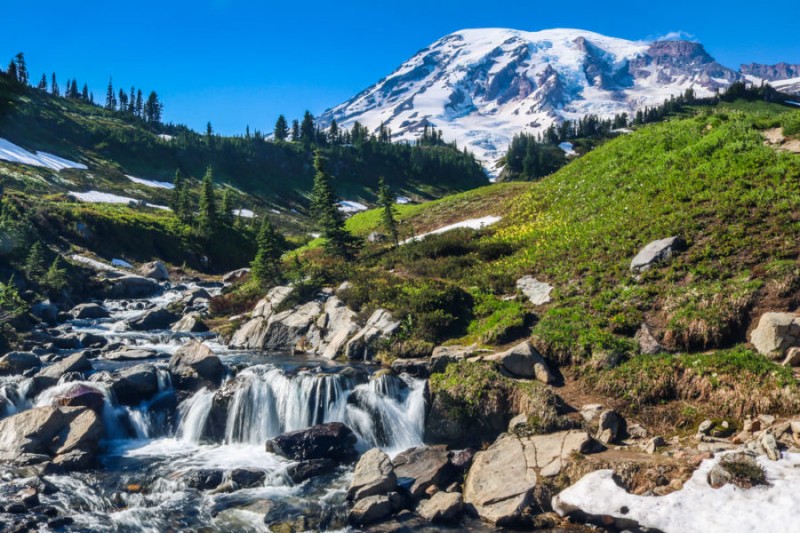 Mt. Rainier National Park has something for everyone, from summer activities like hiking, fishing, guided nature walks, and learning to rock climb to winter activities like guided snow walks, cross-country skiing, snowboarding, and tubing.
Because of the amount of snowfall in the area, the hiking season at Mt. Rainier National Park is limited. Mt. Rainier's best hiking season is from July to September. The majority of the park roads are closed during the fall, winter, and spring seasons.
3. Columbia River Gorge
Only half an hour's drive east of the Portland city center, the Columbia River Gorge is the most famous natural attraction in the area. It makes for a phenomenal drive, winding along this beautiful gorge carved through the Cascade Mountains by the mighty Columbia River. On the way, you'll find old-growth forests, an abundance of waterfalls and great hikes. In terms of places to visit near Portland, this is the most popular one.
The Columbia River Gorge is a canyon formed by the Columbia River in the United States' Pacific Northwest. The canyon stretches for more than eighty miles as the river winds westward through the Cascade Range, forming the border between Washington to the north and Oregon to the south.
It's difficult to find more beautiful vistas than these. Crown Point, located at the western end of the Gorge, provides a front-row seat to the great and powerful Columbia as it unfurls and cuts through the Cascade mountains. From there, dozens of breathtaking waterfalls, including the famous Multnomah, Bridal Veil, and Latourell falls, cascade from basalt cliffs along the Historic Columbia River Highway. As you travel east, the landscape appears to grow larger, grander, and brighter.
2. Oregon Coast
From Portland, you can get to the Oregon Coast in just an hour and a half. The nearest destination is Cannon Beach, a small but busy coastal town directly northwest of Portland. Here, you'll find beautiful Ecola State Park and iconic Haystack Rock, as well as numerous fun restaurants and boutiques. Further south lie places like Hug Point, Cape Lookout and Cape Kiwanda, all of which are simply spectacular.
Haystack Rock dominates the shoreline. Hug Point has waterfalls that cascade onto the sand. At low tide, marine life can be seen. It's no surprise that Cannon Beach was named one of the world's 100 most beautiful places by National Geographic in 2013. In addition, the city's numerous art galleries, restaurants, boutiques, and oceanfront lodging can easily pique your interest. If you're into that sort of thing.
The Oregon Coast is a must-see destination. We visited Heceta Lighthouse, Devils Punch Bowl, Florence's Dunes, Cape Meares, and Cannon Beach. You will undoubtedly enjoy the breathtaking coastline.
1. Mount Hood National Forest
The historic Timberline Lodge on Mount Hood is about 90 minutes from Portland and offers ski rentals during the summer months. What's the reason? Skiing is possible all year thanks to its glaciers. Skinning, or backcountry skiing, up the mountain on backcountry skis, and pack a picnic lunch to relish among the alpine rocks.
Mount Hood, which towers over northern Oregon and is visible from the streets of Portland, is the state's highest mountain, standing at 11,240 feet. Ski resorts, summer recreational spaces, and landmark tourist attractions are located on this dormant stratovolcano. It is also the focal point of the Mt. Hood National Forest, which encompasses over one million acres.
Mount Hood National Forest lies just east of the Portland Metro, a vast expanse of forests, mountains, rivers, lakes and waterfalls. The star of the show is, of course, Mount Hood, an active volcano and Oregon's tallest mountain. In summer, you can spend your day hiking, boating or fishing, while winter snows create world-class snowboarding, skiing and snowshoeing conditions.
Waterfalls, hot springs, and glaciers, as well as diverse wildlife and alpine wildflowers, are among the scenic highlights of the national forest. The snow is what draws people to the slopes in the winter. In the summer, Mount Hood National Forest's evergreen landscape provides a more diverse range of activities, including numerous hiking trails, climbing opportunities, and campgrounds.
Best Places To Visit Near Portland, Oregon for Nature Lovers