In the middle of Oregon lies an unlikely place. Here, in the arid plains of the High Desert, a collection of towering rock pillars, formations and cliffs form one of Oregon's "Seven Wonders." This is Smith Rock State Park, the birthplace of American sport climbing and one of the reasons that nearby Bend is such a hub for adventure travelers.
The ethereal landscapes were created by a pair of volcanic events. The first saw ash a half-mile thick blanket the area, which hardened into Smith Rock tuff rock. The stunning spires seen today were formed by wind and water erosion.
Adventuring in Oregon's Smith Rock State Park
Although this is a rather small state park, no bigger than 641 acres, there is plenty to do here. From easy strolls and chill horseback rides to adrenaline-boosting highlining and climbing 500-foot rock walls, whatever outdoor activity you prefer, you'll probably find it here.
Smith Rock is located in Central Oregon, which has 300 days of sunshine per year, and is an outdoor adventurer's playground. Golf, caving, paddle boarding on the Deschutes, and skiing on Mt. Bachelor are all nearby activities. Mountain bikers can enjoy Phil's Trail, while cyclists can choose from five scenic bikeways, including Madras Mountain Views and Sisters to Smith Rock. Hikers will enjoy exploring the obsidian lava flows at Newberry Crater National Volcanic Monument, where astronauts trained for their moonwalk. And craft beer enthusiasts have 24 breweries to choose from in Central Oregon – 17 of which are in Bend alone.
Rock Climbing
Smith Rock is the top ranked rock climbing destination in Oregon, as well as one of the best sport climbing areas in the United States. This world-renowned sport climbing mecca has been at the center of the climbing world on numerous occasions. Locals and worldwide climbers alike put up scores of classic climbs on the tuff and basalt cliffs in the 1960s-80s; progress goes to this day, with new moderates and cutting-edge routes going up each year.
When you visit Smith Rock, one of the first things you'll notice is that the park is packed with climbers. Hiking with a rope, shoes, and gear is common, and you'll see them on nearly every rock face. If you've never tried outdoor recreational climbing, this is a great place to start. There are approximately 2000 routes, with plenty of options for all skill levels.
It may seem impossible, but it's true. There are several thousand climbing routes in Smith Rock State Park, about a thousand of which are bolted routes. It's mind-boggling number, but when you're there, you'll quickly realize what a climbing paradise this place actually is.
Home to famous rock formations such as the Morning Glory Wall, Red Wall and Monkey Face, it attracts various types of climbers—sport climbers, traditional climbers and boulderers.
Hiking
If you'd rather keep your feet firmly on the ground, Smith Rock State Park offers some fantastic hiking, too. There are twelve trails within the park, along with several more in the surrounding area.
Smith Rock has 12 formal hikes for all skill levels. The most famous hike is Misery Ridge Loop, which allows you to see Monkey Face and the Crooked River from above. There is a lot of elevation gain, but the views are spectacular.
One of my favorite spots at Smith Rock is a paved path just a few steps from the main parking lot that leads to a spectacular viewpoint with information signs. It's a special place to me because it demonstrates that you don't have to hike a gazillion miles to see the sights in many places.
Smith Rock State Park has a network of interconnected trails that make hiking a delight. The best part is that the majority of the trails are short, giving you plenty of time to tackle multiple trails in a single day. While many of the trails are easy, a few are rated more difficult. Whatever trails you choose, make sure to bring plenty of water with you.
The 2.5-mile River Trail is an easy walk along the meandering Crooked River without hardly any elevation change at all. More challenging hikes include the Misery Ridge Trail to the canyon rim and the Burma Road Trail, the latter of which is also suitable for the next two Smith Rock activities.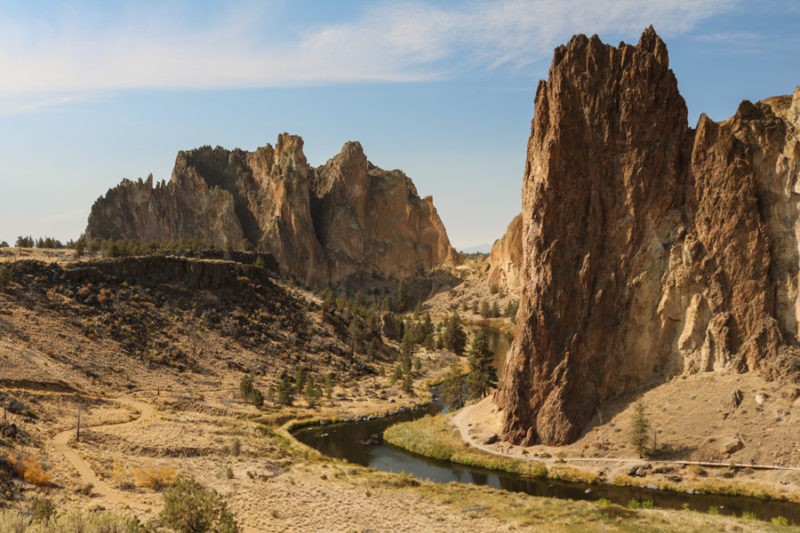 Mountain Biking
Mountain biking in Smith Rock State Park is allowed in regular paved roads as well as on five trails in and around the canyon. The beauty is that many of them connect to other trails on adjacent Bureau of Land Management lands.
Remember that Smith Rock mountain biking is not suitable for beginners. The surface consists of sand, loose gravel and small rocks, which makes the descents technical and sometimes challenging. Ascents, on the other hand, can be pretty steep. Always wear a helmet and bring a water bottle.
The ride provides a diverse range of mountain biking experiences, including hard-packed (in the spring) flowing singletrack, rocky dirt roads, loose rock climbs and descents, side hills, long winding roads, and gravel trails. And the ride was more or less uphill in the direction I took it – a clockwise loop.
The loop was approximately 7 miles in length. In retrospect, it would have been much more fun to connect to the Summit Trail from the Gray Butte Trail and descend all that stuff I rode up. The Summit Trail is the most prominent mountain biking path, and if you want to add miles to your ride, you can proceed on to adjacent BLM lands.
Horseback Riding
Take a leisurely horseback ride along the river. Horses are only permitted on certain sections of the Canyon River, Wolf Tree, and Homestead trails, but they cover a large portion of the park. If you want to go further, you can continue on into the surrounding BLM land.
You can go horseback riding on four trails in the park. Although some busy sections are closed to horse, you can still explore large sections of Smith Rock on horseback. Two horse fords crossing the Crooked River connect trails in the northern and southern areas. Because all horse trails are shared with other recreationists, the best time of the day to go for a ride is early in the morning.
Best Time to Visit Smith Park
Summer is typically peak season because most people are off and the weather is consistently pleasant. The best times to visit if you want to avoid crowds are during the week in the spring and fall. The weather will be nice, and the crowds will be smaller. It is also the best time to climb because it is extremely hot in the summer. Winter is the slowest season at the park because it gets so cold, but you can sometimes get some amazing shots with Smith Rock lightly dusted with snow. They also turned off some of the water to prevent the pipes from freezing, and the amenities are more limited.
Smith Rock State Park, Oregon