Best Portland Oregon Day Trips
You should have plenty of ideas for day trips from Portland, but if you're looking for a little Portland road trip excursion, we have some more suggestions for you as well. There is no shortage of things to do in the city. Hiking, camping, beach fun… you name it.
Some of these excursions have a short driving distance, so they could be completed in half a day if a full day is not feasible. Other drives are quite lengthy and out of the way, which implies a long day of driving and more chances of being delayed by traffic or other factors. The weather on the coast can be unpredictable, and it can change radically depending on where you go.
Columbia River Gorge
The picturesque Columbia River Gorge is a river canyon that separates Oregon and Washington states. It is 80 miles in length and in some areas the black basalt cliffs are up to 4,000 feet deep. It is one of the most scenic naturally preserved areas in the United States. There are 77 waterfalls on the Oregon side of the Gorge including Multnomah Falls, the second-highest year-round waterfall in the U.S. Hiking, mountain biking, and wind-surfing are popular sports that are enjoyed in the Columbia River Gorge.

Take a tour that can last a few hours or a few days on the historic Columbia River Highway. Look for interpretive signs that unlock the history as you drive, bike or hike along this national treasure. Your highway adventure begins at the Lewis and Clark State Park. Sites to be aware of as you head east: The Vista House, Multnomah Falls, Horsetail Falls, Bonneville Dam and the Hood River.
Multnomah Falls
Located 30 miles east of Portland on Larch Mountain, Multnomah Falls is one of the most spectacular sights in the scenic Columbia River Gorge. A hiking trail leads across Benson Bridge, which is located between the upper and lower falls. In winter, the frozen waterfall is breathtakingly beautiful. Built in 1925, Multnomah Falls Lodge is a day lodge only, which offers a full-service restaurant serving Northwest cuisine as well as a lounge and bar, snack bar, and a gift shop.
Mt. Hood
If you are into slippery winter sports like skiing, then Mt. Hood is the place for you. With four downhill resorts – including Mt. Hood Meadows and Timberline Lodge – and our world-famous year-round skiing, the majestic 11,235-foot peak – located about an hour outside Portland – is a mecca for skiers, snowboarders, ice climbers and hikers.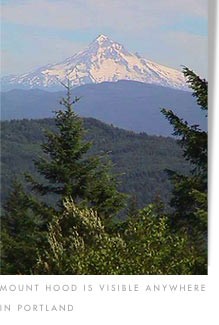 Hike in the summer to discover hidden lakes and breathtaking views. Snowshoe in the winter to experience the winter wonderland of snow-covered forests and frozen lakes. If the day trip turns into a long mini vacation, there are plenty of lodging options.
The Mount Hood Scenic Byway is ideal for lovely scenery and a fun, soothing drive up and down.
Mount St Helens
On a clear day, a drive to Mt. St. Helens makes a great day trip from Portland. The snow-covered Mt. St. Helens looks like a giant ice-cream cone in the distant sky.
The famous volcano erupted on May 18, 1980, and remnants of the devastation can still be seen twenty-five years later. Although wildlife has returned to the area and trees and flowers are growing anew, many tree stumps and broken trees remain as a reminder.

Since September 2004, after years of no activity, Mt. St. Helens is rumbling to life again, with small earthquakes and dome-building activity. On occasion, the mountain spews clouds of ash and steam into the air, and brings tourists to the viewpoints hoping to catch the mountain "letting off steam".
The best view of the crater can be seen at the Johnston Ridge Observatory, a 2 ½ hour drive from Portland on State Route 504. This is the closest viewpoint – just 5 ½ miles from the crater!
More than 1,300 feet of the mountain's top cascaded into the Toutle River Valley below killing 57 People and devastating wildlife for almost two decades. Several visitor centers along Highway 504 leading up to Mount St. Helens provide insight into that historical moment. Mount St. Helens is located in Washington state, 90 minutes north of Portland on Interstate 5.
Wine Tasting Tours
Home of Oregon's Famous Pinot Noir
Just southwest of Portland lies Washington and Yamhill Counties in the heart of Oregon's wine country, boasting more than 100 wineries and 9,000 acres of vineyards. The mild climate in this part of the Willamette Valley is often compared to the Burgundy region of France and the area is recognized for producing some of the best Pinot noir in the world.
Directory of Wineries
Many of the vineyards have wine-tasting rooms and tours available for their customers. Below is a list of some of the most popular wineries in the Willamette Valley:
Cooper Mountain Vineyards
9480 SW Grabhorn Road
Beaverton, OR 97007
503.649.0027
www.coopermountainwine.com
Eola Hills Wine Cellars
501 S Pacific Highway 99W
Rickreall, OR 97371
503.623.2405
www.eolahillswinery.com
Helvetia Vineyards
22485 NW Yungen Road
Hillsboro, OR 97124
503.647.5169
www.helvetiawinery.com
Laurel Ridge Winery
13301 NE Kuehne Road
Carlton, OR 97111
503.852.7404
www.laurelridgewines.com
Montinore Estate
3663 SW Dilley Road
Forest Grove, OR 97116
503.359.5012
www.montinore.com
Oak Knoll Winery
29700 SW Burkhalter Road
Hillsboro, OR 97123
503.648.8198
www.oakknollwinery.com
Ponzi Vineyards
14665 SW Winery Lane
Beaverton, OR 97007
503.628.1227
www.ponziwines.com
Rex Hill Vineyards
30835 N Highway 99W
Newberg, OR 97132
503.538.0666
www.rexhill.com
Sokol Blosser Winery
5000 Sokol Blosser Lane
PO Box 399
Dundee, OR 97115
503.864.2710
www.sokolblosser.com
Yamhill Valley Vineyards
16250 SW Oldsville Road
McMinnville, OR 97128
www.yanhill.com
2-Day Road Trip from Portland
We'll go ahead and suggest the obvious. Choose only one of the three areas if you only have a few days! Spend time in the Columbia River Gorge, around Mount Hood, or on the coast. It will be difficult to fit it all in with only a couple of days.
3 or 4-Day Road Trip from Portland
We'd recommend spending 3-4 days exploring Mount Hood and the Gorge. You can easily merge two areas, and they complement each other well. Go waterfall chasing along the Gorge and marvel at Mount Hood's mountain views. It may be difficult to limit your trip to the coast to a few days.
5-Day Road Trip from Portland
If you have at least five days, you ought to be able to visit all three of the areas mentioned in this post. It will still be optimistic and rushed, and you will not be able to see everything on this list, but you will get a flavor of the three areas.
Oregon Beach Towns Near Portland
The majority of north Oregon coast beaches are within a two-hour drive of Portland. The spectacular coastline has much to offer its visitors – breathtaking views of unspoiled beaches, sand dunes, and rocky cliffs and miles of nature and hiking trails. Although the north coast waters are too cold for most people to swim, wet-suit surfing is a popular sport on some beaches.
Seaside Beach
Seaside is the favorite beach destination for many locals. This popular family-friendly town features a promenade and boardwalk along the beach. The downtown streets are lined with clothing shops, candy stores, arcades, and the usual coastal trinket shops.
Cannon Beach
Cannon Beach is a more upscale version of Seaside with boutiques, art galleries, coffee shops, and restaurants featuring fresh seafood lining both sides of the main street. Cannon Beach is also home to Haystack Rock – one of the largest monoliths in the world.
Lincoln City
Lincoln City is known as one of the top kite-flying destinations in the world. Thousands of people come to this seaside town to watch the gray whales migrate in early spring and again in fall and early winter. Other favorite pastimes are beach-combing, deep-sea fishing, antiquing, and shopping at the Tanger Outlet Mall.
Oregon Day Trips from Portland