Downtown Portland is generally where you'll want to spend the majority of your time and (if you can afford it) stay. The downtown region is located on the west side of the Willamette River and extends about from the river to I-405 (which enters the city around 14th Avenue, or 14 blocks from the river), as well as from the Portland State University campus (around Salmon Street) north to Burnside Street (or about eight blocks). It's compact and walkable, with lots of great shops, restaurants, theaters, and museums.
Portland's downtown blocks may appear to be short to you, and that's because they are – each block is a square with around 200 feet on each side (as opposed to some of the blocks in Manhattan which can be 800ft long). This was done on purpose since more corners meant more valuable corner real estate, but the benefit is that downtown Portland is easy to navigate on foot.
If your feet become tired or your numerous shopping bags become too heavy, you can take advantage of Portland's well-known light rail system, known as MAX, which runs through downtown Portland in what is known as the "fareless square." The MAX train travels west on Morrison, east on Yamhill, and north/south on 1st Ave. – and you may ride MAX for free if you stay in downtown. (There are a few more sites outside of downtown that are also part of the "fareless square," but we'll cover those in another piece.)
The US Bancorp Tower, nicknamed "Big Pink" because it's, well, big and pink; the KOIN Center, with its distinctive pyramid-shaped top; and the Portland Building at SW 5th and Madison, designed by Michael Graves in the 1980s and featuring the famous statue of the pitchfork-wielding Portlandia over the front door, are just a few of the notable buildings in downtown Portland.
If you happen to be in Portland during the summer, you'll be glad to know that one of the city's benefactors had you in mind back in the early 1900s. Simon Benson, a prominent Portland businessman, and philanthropist, contributed the funds to provide 20 drinking fountains in downtown Portland. These fountains, known as "Benson Bubblers," dot the city and are still in use today. The water is chilly and tasty.
Downtown Portland has no shortage of shops, cafes, and restaurants, ranging from the upscale Saks Fifth Avenue (on, where else, SW 5th Avenue) and Nordstrom to shops like Portland's own Moonstruck Chocolates and smaller and funkier family enterprises that will give you a taste of what Portland is all about. There are also a few movie theaters downtown, both for huge blockbuster films and for independent art house films. In sum, you could spend weeks contentedly living within the roughly 100 city blocks that comprise downtown and never become bored.
Pioneer Courthouse Square
In the heart of downtown Portland is the square affectionately known as "Portland's Living Room," Pioneer Courthouse Square. It's a brick-covered square that takes up a city block and actually sinks away from ground level on one corner in order to create an amphitheater shape. Consequently, it's the perfect spot for the many festivals and public concerts that take up the square during the summer. Even when it's unoccupied, however, it's a popular place for Portlanders to hang out, eat lunch or read the paper. The Starbucks on the corner of the square is a common meeting point for friends, as well.
Downtown Portland centers around Pioneer Courthouse Square, a lively central public meeting place. The Square is the most visited site in Portland and hosts more than 300 events a year such as political rallies, festivals, and concerts. Pioneer Square features an amphitheater, a central waterfall fountain, and handmade bronze tiles that depict Portland's history. The more than 68,000 named bricks that pave the surface of the Square were purchased by local citizens and businesses.
Tom McCall Waterfront Park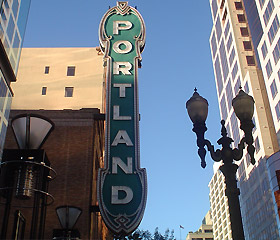 Tom McCall Waterfront Park is another center of activity in Downtown Portland. The green park blocks run the length of the downtown area along the Willamette River. Much of the fun can be found around the Salmon Street Fountain where children love to play in the summertime. Portland's largest outdoor festivals are held at Waterfront Park. The wide concrete walkway that winds through the park and along the river is usually crowded with people strolling, on bicycles or rollerblades.
The downtown area has many decorative fountains, with a large percentage of the fountains using recycled water. Among the unique features in downtown Portland are the bronze four-bowl fresh-water drinking fountains known as Benson Bubblers. They were commissioned by Simon Benson in 1912 as a way to give fresh drinking water to the workers of the city.
Downtown Portland has a vibrant arts community which includes the Portland Art Museum, the internationally-known Oregon Symphony, and the Arlene Schnitzer concert hall, as well as many art galleries and museums. Outdoor art displays and statues, often whimsical, can be found all around downtown. A bronze statue in Pioneer Square named "Allow Me" (often called Umbrella Man) offers his umbrella to anyone strolling by. Portlandia, a copper statue made by Ramond Kasky kneels over the entrance to The Portland Building and is second only in size to the Statue of Liberty.
Downtown Portland Visitors Guide
Downtown | The Official Guide to Portland
travelportland.com/neighborhoods/downtown/
Portland's compact, walkable downtown offers easy access to great food, green spaces, cultural offerings, tax-free shopping and seemingly endless things to do. Browse the city's most diverse mix of retail brands, see a show and grab a bite at a food cart or fine restaurant — all conveniently located in downtown Portland.
THE 15 BEST Things to Do in Portland – 2020 (with Photos …
tripadvisor.com/Attractions-g52024-Activities-Portland_Oregon.html
Book your tickets online for the top things to do in Portland, Oregon on Tripadvisor: See 70,682 traveler reviews and photos of Portland tourist attractions. Find what to do today, this weekend, or in April. We have reviews of the best places to see in Portland. Visit top-rated & must-see attractions.
9 Best & Coolest Things To Do in Downtown Portland 2020 …
tripstodiscover.com/best-things-to-do-downtown-portland/
Downtown Portland offers a whole lot more than most visitors imagine. Compact and walkable, it boasts an ideal blend of fantastic food and drink, cultural offerings, endless green spaces. recreational activities and tax-free shopping. Full of flavor and laid-back people, it's a destination that's truly not to be missed.
Portland & Beyond | The City of Portland, Oregon
portlandoregon.gov/43399
Downtown Portland. Includes guides to dining, shopping, lodging, and events. Portland's Municipal Fountains. Learn more about Portland's many fountains and get a downtown fountain walking map. Travel Portland Visitor Information. Travel Portland has a wealth of information and resources for exploring downtown Portland. Travel Oregon Visitor …
Top 10 Hotels in Downtown Portland – Portland, OR | Hotels.com
hotels.com/nh1705106/hotels-in-downtown-portland-portland-oregon/
Hotels in downtown Portland Luxury hotels in downtown Portland are plentiful, most of them in keeping with the city's own quirky feel. The Hotel Monaco Portland and the Hotel deLuxe offer, as the latter's name suggests, luxurious top-rated accommodation just a stone's throw from Portland's main sights.
Things to do in Portland | The Official Guide
travelportland.com/attractions/
Oregon Zoo. The West's oldest zoo, located just minutes from downtown Portland in visitor-friendly Washington Park, is home to 2,200 animals. Pittock Mansion. High in the West Hills, the Pittock Mansion offers picture-perfect views of the city as well as a revealing insights into Portland's history. Portland International Rose Test Garden …
Downtown Oregon | OpenTable
opentable.com/portland/downtown-restaurants
Classic dining is downtown Portland's high point, and visitors will find establishments both old and new. While happy hour might draw diners in, the food keeps them going. Many downtown spots serve up comfort food classics that highlight Oregon's abundance of fresh ingredients. The downtown culture also explodes with global flavors.
The 10 Best Downtown Restaurants (Portland) – Tripadvisor
tripadvisor.com/Restaurants-g52024-zfn29299-Portland_Oregon.html
Downtown Restaurants – Portland, OR: See 29,243 Tripadvisor traveler reviews of 29,243 restaurants in Portland Downtown and search by cuisine, price, and more.
Downtown Portland Apartments for Rent – Portland, OR …
apartments.com/downtown-portland-portland-or/
Residents live a short walk from the Portland Art Museum and the Oregon Maritime Museum. Each year, Downtown Portland comes alive with events, including a tree-lighting ceremony, Tuba Christmas concert and the Portland Jazz Festival. Transportation. Whether you prefer to walk or ride, getting around downtown Portland is a breeze.
25 Best Things to Do in Portland (Oregon) – The Crazy Tourist
thecrazytourist.com/top-25-things-to-do-in-portland/
The Oregon Historical Museum sits in downtown Portland and was officially opened in 1898. The museum is most famous for being the home of the Portland Penny. The Portland Penny is a copper penny from 1835 that was flipped to decide the name of the city. The choice was between Portland and Boston with Portland coming out the winner.
Portland, Oregon
portlandoregon.gov
The City of Portland is coordinating with Multnomah County, regional and state partners to prepare for local impacts of coronavirus. Learn more about Novel Coronavirus COVID-19. Learn more about the City of Portland's response.
Downtown Portland – Oregon
oregon.gov/ODOT/DMV/pages/offices/portlanddowntown.aspx
Downtown Portland DMV 1502 SW Sixth Ave Portland, OR 97201. Going North/South (from I-405) From north or southbound I-405, take Exit 1C. Take 6th Ave north toward downtown Portland. Continue north on 6th Ave for about 7 blocks. The DMV office is located on the corner of 6th Ave and Clay St (both are one-way streets).
Downtown Portland – South Waterfront Hotels: Find 322 …
expedia.com/Downtown-Portland-Portland-Hotels.0-n6054571-0.Travel-Guide-Filter-Hotels
Around 0.2 miles east from the buzz of downtown Portland, United States of America, is the much-loved neighborhood of Downtown Portland. Portland's many popular tourist attractions include the Grotto, the Oregon Museum of Science and Industry and Tom McCall Waterfront Park.
Portland Neighborhoods: Downtown Portland