Portland has a reputation as one of the most efficient and pedestrian-friendly public transportation systems in the nation, which is especially unusual in a city of its size. All parts of the metropolitan area, including Vancouver, Washington, are accessible by either the MAX light rail system, the Streetcars, or city buses.
Oregon has a very diverse field of transportation options available for travelers and residents alike. Traveling within most cities above 150,000 residents is greatly simplified by the preponderance of public transit options. Traveling between cities or to more remote areas of the state is supported by a wide network of trains, buses, and small aircraft. If you are wondering how to get around Oregon, then you will have to consider a few different things depending on where your travels will take you.
Car Rental
There are quite a lot of car rental companies operating within Oregon. Nearly all of the national car rental agencies can be found somewhere in Portland and many of them can be found in the airport itself. It is highly recommended that you call ahead to reserve a car if you plan on going to places with larger populations such as Portland. If you are going to be visiting during a specific event, then you should call well in advance.
Taxi Services
Taxis are a widely used form of transportation in Portland and other large cities like Bend. In Portland, you will be able to hail taxis from the airport or at any major downtown area. However, smaller cities like Bend or Eugene will be very difficult to do this in. You will need to have a list of taxi services in the area that you can call to schedule a pickup. This can be very helpful if you are only visiting a small area in the city and would rarely need to use a taxi.
Bus
There are a few different bus lines that operate within Oregon. Some of these buses are for transportation across large distances to cities and towns far away. Other buses are used strictly for charter services to very specific destinations. You need to be clear about which type of bus you're buying a ticket for if you decide to travel by bus.
Air Travel
Air travel is a very fast way to get around the state. In some cases, it is the only way to get to places that are far off the beaten path. For example, there are many hiking and backpacking opportunities that are only really available for people that are willing to hire a bush plane to get there. There are regional airports throughout the state that provide service to a large number of regional and national air carriers.

Train
Oregon has a very well-established system of trains that go throughout the state. The unique topography of Oregon helps to make train travel very simple and efficient. There are larger cities on the coast that sort of linger along the shoreline. Then there is a massive swath of mountains and forests. In the mid-western part of the state is the Willamette valley. Then there is another enormous north-south tract of mountains and forests. On the other side of that is the flatter badlands where there is more access to cities. Population centers in Oregon follow fairly linear paths in comparison to other states and this makes train travel a very easy and fast alternative to driving or flying when it comes to getting around the state.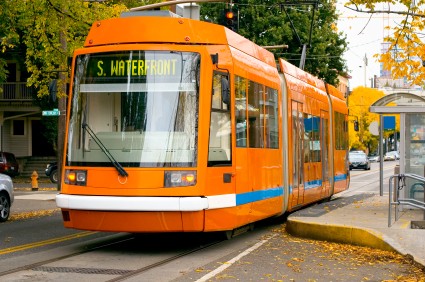 The MAX light rail runs throughout downtown Portland in addition to the Portland International Airport, the technology businesses that are centered in Hillsboro, and all the way out to Gresham on the eastern edge of the metro area as well as many neighborhoods in-between. More lines are planned around the metropolitan area in the coming years.
In addition, quaint Streetcars, reminiscent of those in San Francisco, connect the neighborhoods of Nob Hill and the Pearl District to Portland State University and South Waterfront. Scheduled to open in late 2006, the Portland Aerial Tram will transport doctors, patients, and visitors from the South Waterfront to the Oregon Health and Science University campus on the hill overlooking the city.
Many streets of the metro area have bicycle lanes. There is also an abundance of dedicated bicycle trails making Portland one of the most bike-friendly cities around. With so many transportation options, visitors to Downtown rarely need to resort to rental cars or taxis!
Portland International Airport
The Portland International Airport (PDX) is located 12 miles northeast of downtown along the Columbia River and is served by most national and international airlines.
Portland International Airport (PDX)
» 700 NE Airport Way
» 503.460.4100
» Check Flight Status
Portland LightRail, StreeCar & Bus
Portland's TriMet light rail system, known locally as MAX, has three main lines that serve the area. The blue line runs east-west from Gresham through Portland's city center to Hillsboro. The Red Line travels from central Beaverton and making a pass through downtown Portland as it heads northeast to the Portland International Airport. In 2004 the Yellow Line was added, with trains traveling from the Rose Quarter in downtown Portland out to the Expo Center. Whether using MAX, Streetcar or a bus, all rides that begin and end within Fareless Square are free at all times.
TriMet LightRail, StreeCar & Bus
» Max Light Rail Schedule | Route Map
» Portland StreetCar Schedule | Route Map
» TriMet Buses Schedule | Route Map
Amtrak Train (Union Station)
Amtrak provides twice-daily service between Portland and Eugene to the south and three daily trains run north to Seattle. For daily long-distance service, The Empire Builder serves cities eastward to Chicago and the Coast Starlight runs the length of the West Coast from Seattle to Los Angeles. Union Station is located just northeast of the Pearl District at 800 NW 6th Ave.
Amtrak
» www.amtrak.com
» 800 NW 6th
» 503.273.4865
Portland's Flexcar Program
Portland, Oregon, known for its innovative ideas, was the birthplace of Flexcar, the nation's first car-sharing service. Over 70 vehicles are conveniently located around the Portland/Vancouver, WA metro area for the use of Flexcar members. Flexcar's Advantage Plan has a low monthly rate of $40 which includes gas, insurance, and parking. There is also an hourly rate of $9 for occasional use that includes unlimited miles.
Flexcar
» 620 SW Main St
» www.flexcar.com
» 503.328.3539
Travel Within Cities
Transportation infrastructures within larger cities around Oregon are fairly well-developed by American standards. There is a large emphasis placed on public transit in most places around Oregon.
Portland
Portland has a large number of public transit options available. You can use the Sky Tram to get from one side of the city to another very quickly, you can take one of the many buses, or you can take the train to get through town. The train is essentially a highly-developed public rail system that services various points throughout the city. It is a very fast and simple way to get around the city.
Eugene
Eugene has a very well-developed bus system that can get you anywhere you need to go in town. The Lane Transit District provides bus services and collects taxes from local businesses to help fund the District's activities. One thing that sets the Lane Transit District apart from other bus providers is that it offers a low-cost commuter bus from downtown Eugene to the McKenzie Bridge ranger station deep within the Willamette national forest. This saves you time and trouble of renting a car to get a good hike in.