The fertile rolling hills southwest of Portland, Oregon are home to some of the best wines in America. Lacking the masses drawn to many other wine regions, the bucolic Willamette Valley may be America's most civilized wine region.
The Oregon wine country is the polar opposite of Napa or Long Island. It is quiet, with the wineries generally up in the hills and away from the main road. Thankfully, the signs are well marked and the traffic tends to be light, so getting around is easy even in the "busy" season. You will need to allow at least two days to explore the valley with any sort of depth as the wineries tend to have shorter hours than in other wine countries and are often some distance away from each other up curving roads.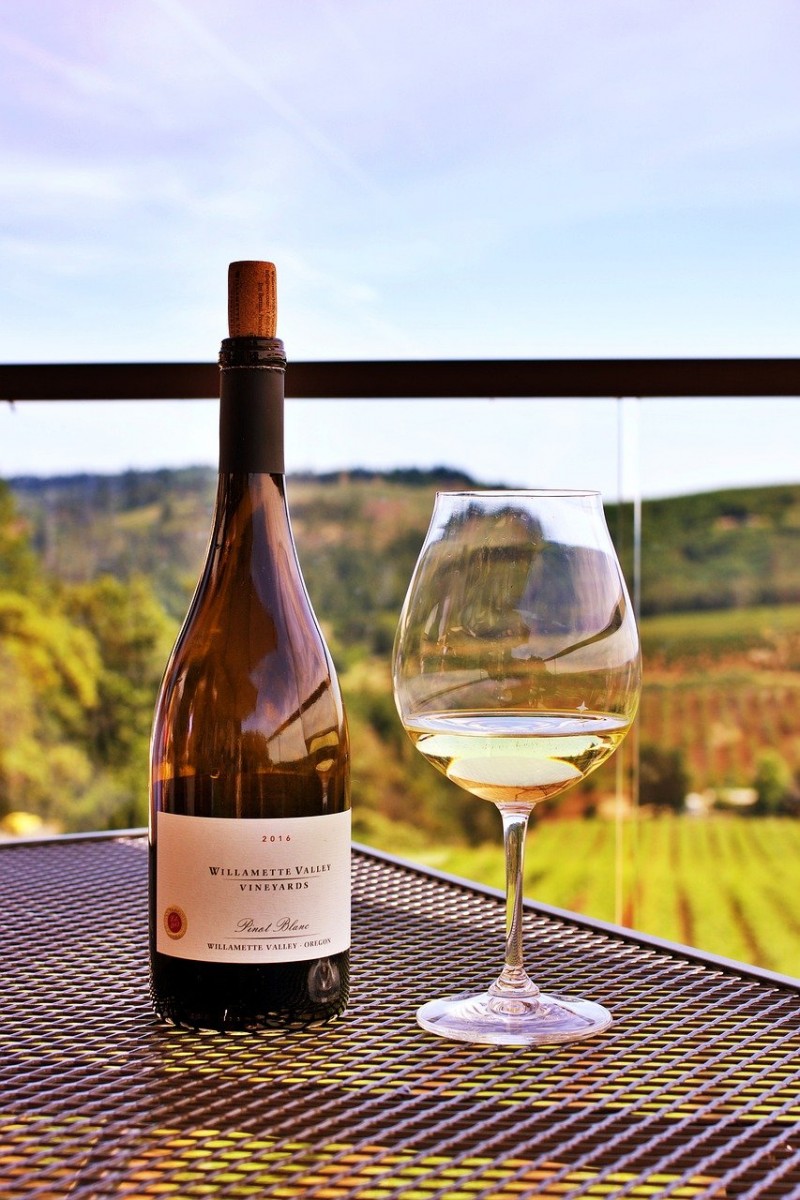 While the region is well known for its Pinot Noirs, the variety of wines produced is impressive, running the gamut from Pinot Gris, Pinot Blanc, Chardonnay, and Sauvignon Blanc to Merlot and Syrah. At most wineries, you will find some of these varietals in addition to the region's star grape: Pinot Noir.
The small town of Dundee is the gateway to the wine region, so to speak. Right in the center on Rte 99W is Argyle Winery Tasting Room. Argyle is one of America's top sparkling wine producers and there will be several to taste, but the winery also produces a range of underrated whites and reds. Their Nuthouse Chardonnay ($35) and 2000 Blanc de Blanc Sparkling Wine ($40) are recent standouts.
The Ponzi Wine Bar, across from Argyle in a small shopping center, is part of Ponzi Winery. The tasting room, however, has a rotating selection of wines from several wineries including Ponzi, so you can try a variety when you visit. It also has a selection of small plate dishes, mainly cheese and charcuterie style to accompany the wines. For lunch or dinner, the Dundee Bistro next door is a good choice for an inexpensive meal.
Domaine Drouhin is up in the hills, across from the Wine Country Farm B&B. This was a groundbreaking winery for Oregon when it opened in 1988. Created by Robert Drouhin, head of Burgundy's Maison Joseph Drouhin, and his winemaker daughter Veronique, the winery aspired to levels previously unheard of for Willamette. The winery is nestled into a hill with expansive views of the valley and has a beautiful tasting room. The signature wine is a full-bodied Pinot Noir called Laurene, named for one of Veronique's daughters. The current release is the 2004 vintage, retailing for $65. Drouhin also brings in wines from the winery in France, a comparative bargain since you are not paying in Euros. One wine in the four–wine tasting will generally be French.
Sokol Blosser is another groundbreaking winery, but for an entirely different reason. The vineyard is certified organic and the winery was the first in the nation to receive the prestigious LEED certification from the United States Green Building Council. Best known for the signature Evolution, a blend of nine different grapes, the winery makes a variety of wines, including Oregon's prized Pinot Gris and Pinot Noir.
The best place to taste wine is undoubtedly the Bellevue Market and Oregon Wine Tasting Room, located on Rte. 18 south of the town of McMinnville, about a 30-minute drive from Dundee. This gourmet shop stocks wines from 120 Oregon wineries and the staff has an incredible depth of knowledge about each of them. At any given time, they have over a dozen whites and reds open to taste. If you hang out long enough, they're bound to open more. Just don't expect to get out in a hurry, things move a lot slower in the country.
On your way back towards Dundee, keep your eyes peeled for a hand-painted sign on the side of the road reading "honey." Take the turnoff and then make a sharp left up a dirt driveway for a secret treat, the Ehry's honey stand. The yard is hardly kempt and the pickup trucks give it a decidedly downscale feel, but ignore the surroundings and make your way to a little hutch with a few jars of honey in it. Heed the "thou shall not steal sign" and deposit exactly $7 for a 24oz jar of blackberry honey. You likely won't see another soul, but the experience is worth it. And then you get to taste some of the best honey around.
The dozens and dozens of wineries producing world-class wines may be the reason most people visit, but the Willamette Valley is the kind of place meant to be roamed for days – leisurely paced with rolling hills and small towns giving it an old fashioned feel. These days that is quite a luxury indeed.
Tasting Rooms
Argyle 691 Highway 99W, 503-538-8520, open 11am to 5pm daily, website
Several tasting options are available – a "Red, White & Bubbly Flight" with five wines, including 1 sparkling, for $10; a "Bubbly Flight" of four sparkling wines for $8; individual tastes are $2.50 each

Domaine Drouhin 6750 Breyman Orchards Rd, Dayton 503-864-2700, website
Open Weds – Sunday 11am – 4pm, $10 tasting fee for 4 wines

Sokol Blosser 5000 Sokol Blosser Lane, Dundee 800-582-6668, website
Open 10am – 4pm daily, Tasting Fees $5 – 15, Tour and Tasting $10. Tours run Friday – Sunday at 11:30am and 2:30pm, limited to 15 people

Owen Roe (website) in Newberg can be visited by appointment only 503-678-6514. They produce a wide variety of wines, including several Pinot Noirs and Syrahs.
Archery Summit 18599 N.E. Archery Summit Rd, Dayton 503-864-4300, website
Archery Summit produces what is widely considered to be some of the top pinot noirs in Oregon. Tastings of four Pinot Noirs are $15. Open Wednesday to Sunday from 10am to 4pm

Brick House Vineyards 18200 Lewis Rogers Lane, Newberg 503-538-5136, website
Brick House has been certified organic since 1990. They plant traditional burgundy styles: Chardonnay, Pinot Noir and Gamay Noir. By appointment only Thursday, Friday and Saturday in growing season

Ponzi Wine Bar 100 SW 7th Street (99W) (503)554-1500, website
Tasting fees and wines poured vary.
Getting There
The main route into the Willamette Valley is Rte. 99W, which you can reach by taking Rte. 5 south from Portland or north from Salem. You will drive through suburbs for approximately 10 miles before the countryside takes over. Past Dundee, the highway continues down through McMinnville and runs into Rte. 18, which will take you all the way to the Pacific Coast.
For a unique touring option perfect for groups, you can try ecoShuttle, which has vans and buses that run on 100% biodiesel. They can take you to wineries of your choice or you can take a pre-designed tour such as the sustainable winery tour. Rates depend on the size of vehicle – they have five shuttles to choose from, ranging from 9 to 48 passenger capacities. The sustainable winery tour is 6 hours so the rate is $480 or $840/day. For reservations, call 1-877-ECO4PDX or visit their website.
Insider Tips
If you aren't sure how to pronounce the valley's name, an Oregonian will let you in on a secret, it's pronounced like "dammit."
Consult the Willamette Valley Wineries website or The Willamette Valley Visitors' Association website to plan your trip before you arrive. They have a good list of places to stay, restaurants and wineries to visit.
Start early as most wineries close by 4pm.
Where to Stay
Wine Country Farm Bed & Breakfast is a working farm, stables and vineyard set up in the hills overlooking the valley. High season rates are reasonable – rooms from $130, suites from $185, with a terrific breakfast included. The house also has wi-fi and offers a glass of wine from their own vineyard in the afternoon.
6855 Breyman Orchards Rd, Dundee
503-864-3446
winecountryfarm.com
The Brookside Inn is hidden away on 22 acres, complete with a creek and fishing pond. The Inn has a couple of buildings and rooms book fast in-season, with rates starting at $185 including breakfast.
8243 NE Abbey Road, Carlton
503-852-4433
brooksideinn.com
For an in-town experience at a lower price point, try the hundred-year-old McMenamin's Hotel Oregon. King suites run $100 – $121 with private bath and queen suites with private bath are $80 – $99. Keep in mind that some rooms must share a bath so be sure to specify when reserving.
310 NE Evans Street, McMinnville
503-472-8427
McMenamin's Hotel website
Eat & Drink
Dundee Bistro 100-A SW 7th Street (99W in town) 503-554-1650, website, is open from 11am – 5pm for lunch and 5pm until closing for dinner. The diverse bistro menu runs from sandwiches to soups to pastas and entrees. Prices are gentle, with no mains above $16. The large wine list is heavy with local wines, especially Pinot Noir. Ponzi Wine Bar, next door, has a menu of tapas and small plates to accompany the wines being tasted.
Tina's Restaurant 760 99W, Dundee, 503-538-8880, website, has been heralded as having some of the best cooking in the Northwest. They take pride in sourcing local, seasonal and organic produce. Lunch Tues – Friday from 11:30am – 2pm, Dinner nightly 5pm until closing. Dinner for two will run $120 – $150, including wine.
The heralded Joel Palmer House, 600 Ferry St, 503-864-2995, website, in Dayton has a lovely garden but the experience is somewhat lacking and it's not cheap. Their calling card is mushrooms but you may be missing more modern takes on the cuisine as the cooking is strictly stuck in the 80s. Expect to pay about $150 – $200 for dinner for 2, including wine. Dinner only, Tuesday – Saturday 5pm – 9pm.
Willamette Valley – Oregon Wine Country