A couple of weeks ago, we took a road trip down the Oregon Coast – to visit some of the beaches on the coast, the Oregon Coast Aquarium, and on the way, we even drove through the Redwood Forest.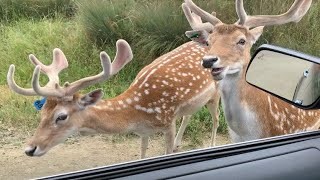 On our way back up to Washington, we drove through Winston, Oregon. Winston is the home of Wildlife Safari – an amazing place for families.
The Wildlife Safari
Wildlife Safari opened over 40 years ago, as the only drive-through wild animal park in Oregon. Nestled in a large wooded valley, the park features over 550 animals from around the world. You can view over 76 species from your car including tigers, giraffes, zebras, lions, elephants, bison, elk, and bears.
5 Reasons you NEED to visit Wildlife Safari
Beyond being an attraction for visitors, Wildlife Safari is also dedicated to conservation, education, and research of native and exotic wildlife. Helping educate the public about the status of animals around the world.
Personal Animal Encounters
An animal encounter is a perfect way to spend some up-close and personal time with these amazing creatures! They include things like: feeding the animals, elephant car wash, photo with a cheetah, lion tug-0-war, camel rides, and so much more.
My girls picked the camel rides for their animal encounter, and still talk about how great it was, and how they want to do it again.
Double the Experience
When you purchase your admission tickets to the drive-through park, you get to go through not once, but twice in one day. When we went, we drove through the park first, did the animal encounter, visited in the village, eat lunch, then drove through again before leaving for the day.
Wildlife Safari Village
The Village area is free for guests throughout the day. They offer a beautiful walk-through area with over 300 smaller animals, a cafe, a playground area, a petting zoo, and the Gift Shop.
This made for the great in-between times.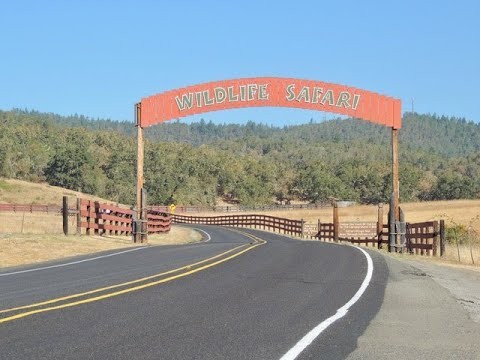 Camping & RV Park
Enjoy a truly wild family camping experience at Wildlife Safari. You get to camp at night, where lions and bears roam during the day. You also get to go inside bear and lion dens and meet these amazing animals face to face.
Wildlife Safari RV Park is located just ¼ mile from Wildlife Safari on Safari Rd. There are 15 sites that are first-come, first-serve, with no reservations. If you're on a road trip with your family in an RV, this is a perfect place to stop on your way.
Unlike any Zoo
Wildlife Safari is unlike any zoo experience ever. You get to see these beautiful creators in their own habitats, among the wild. You can take your time visiting each of the kingdoms, take photos of your family among the animals. It's just a unique experience for everyone, especially children.
They also have a ton of events going on monthly.
I wish we were closer, so we could visit often. But it will be on our to-do list next time we're in Oregon!
You can find more info about the park, hours, prices, and more at WildlifeSafari.net
Wildlife Safari in Oregon