Things to do in Downtown Portland
Escape the daily grind in Portland, Oregon. Mapping out routes and pre-planning restaurants and activities ensures a great Portland day visit.
The narrow downtown streets create a vehicular parking challenge in Portland. However, a good map and a full tank of gas are great companions for a day visit in this diverse city.
Breakfast Downtown Deserves Mom's Best
Many Portland travelers and locals start their day at Portland's downtown Mother's Bistro & Bar. A historic downtown bank building is Mother's Bistro home.
Foodies rank Mother's Bistro easily around 95% for food and ambiance on the online Boo-Rah restaurant rating site. Mother's Bistro perks the local favorite Stumptown Roaster's coffee brew, along with a wide variety of delicious hot teas.
The food is a combination of homemade American standards and the price is reasonable. People particularly compliment Mother's pancakes and wild salmon hash for breakfast. Folks in need of Mother's meatloaf sandwich, homemade macaroni and cheese, or chicken and dumplings are happily satisfied at lunch and dinner. Prices range from about $8.95 for a meatloaf sandwich to $19.95 for a rib eye steak meal.
Mother's Bistro & Bar
Address: 212 SW Stark Street, Portland, Oregon 97204
Phone: 504-464-1122, Reservations accepted; Online website – Google by name
Hours: Breakfast Tues-Fri 7am-2:30pm, Sat-Sun 9am-2:30pm; Lunch Tues-Sun 11:30am-2:30pm; Dinner Tues-Thurs 5:30pm-9pm, Fri-Sat 5pm-10pm
Explore the World's Largest Bookstore
Powell's City of Books is the unofficial welcome mascot for downtown Portland, indisputably the largest bookstore in the world, and the perfect place to work off those comfort-food calories from Mom's Bistro.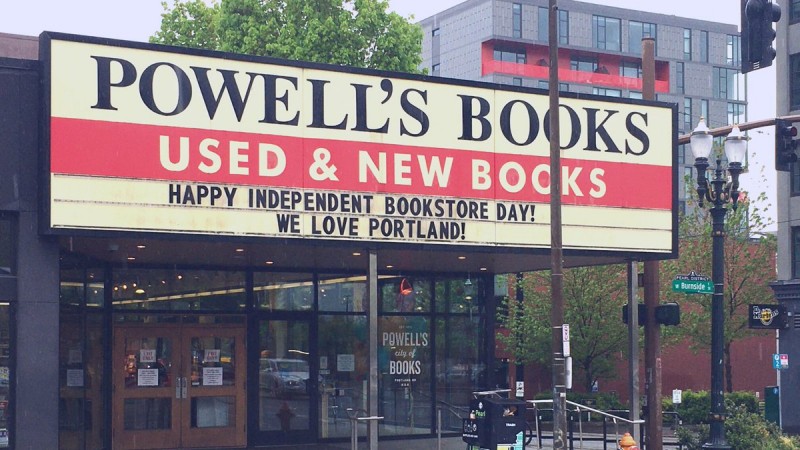 Powell's occupies an entire city block of downtown Portland. No bookstore on earth comes close to the experience. Powell's has it all from rare, one-of a-kind, autographed first editions, to new and used books.
If that were not enough, Powell's offers five other locations with two of those offering exclusive genres: Powell's Technical Books and Powell's Books for Home and Garden. All addresses and hours are accessible at their online website.
Powell's City of Books
Address: 1005 W. Burnside (at corner of 10th Street and Burnside), Portland, Oregon 97209
Phone: 503-228-4651 (out of Portland area, call 800-878-7323)
Hours: Daily 9am-11pm; Book Buying 9am-8:30pm; Rare Book Room 9am-7pm and By Appt.
Lunch Munch
Hungry bookworms head to Huber's Café after hiking through Powell's stacks. The restaurant is reportedly the oldest in Portland and it began as a saloon, serving only alcohol and turkey sandwiches in the 1870's.
Beer batter is today's signature for their onion rings and decedent prawns. Of course, all sorts of turkey, including roasted drumsticks and the historically famous sandwiches, round out the menu along with burgers, crepes, and even a stack of pies. Huber's also has a generous healthy menu of salads, soups, and turkey dishes for those who can resist temptation.
Huber's Cafe
Address: 411 SW 3rd Street, Portland, Oregon 97204
Phone 503-228-5686, Reservations accepted; Online website – Google by name
Hours: Mon-Thurs Lunch & Dinner 11:30am-10pm; Sat Brunch 11:30am-2pm; Bar 11:30am-Midnight; Fri-Sat Lunch & Dinner 11:30am-11pm; Bar 11:30-1am
Afternoon Delights in Washington Park
Because of the International Test Rose Garden at Washington Park, Portland is known as the City of Roses, and it is a great place to walk off the delicious and generous lunch from Huber's Café. Washington Park is just a few minutes' drive from Downtown and no entry fee.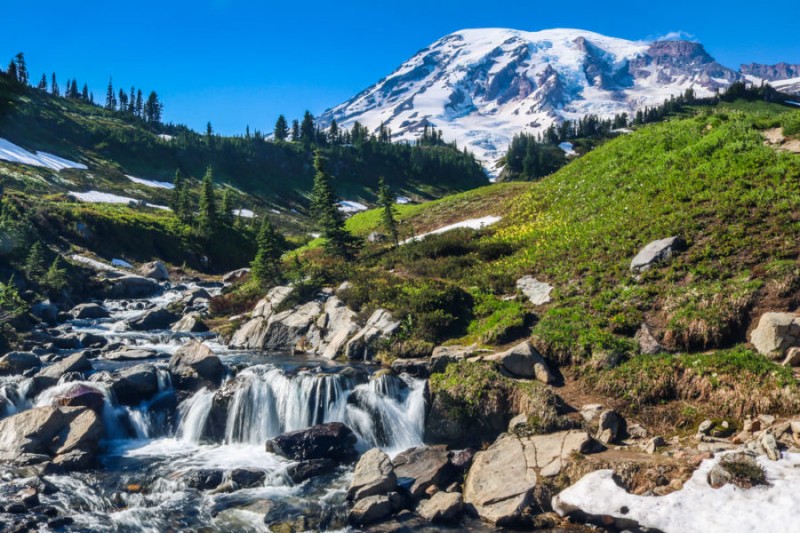 Beautiful statues, memorials, and a centerpiece fountain grace the acreage in honor of Sacajawea, victims of the Holocaust, the Vietnam Veteran's Memorial, and other historic notables. The first zoo in Portland still attracts visitors there daily, as well as the Children's Museum and the beautiful Japanese Garden.
Addresss: 4001 SW Canyon Road, Head of SW Park Place, Portland, Oregon 97205
Phone: 503-823-7529
Hours: Daily 5am-10pm (SW Washington Way closed Monday through Thursday)
Dinner at Sal's
End the day less than a mile out of Washington Park at Sal's Famous Italian Kitchen. With a dinner menu price range from $8.50 for the homemade house New York-style pizza to only $14.95 for their clam linguini, Sal's welcomes regulars and tourists like family. Sal's is one of the restaurants offering great Italian food of Portland's own Pizzicato restaurant locations.
Sal's Famous Italian Kitchen (Sal's Uptown)
Address: 33 NW 23rd Place (Uptown Shopping Center) Portland, Oregon 97210
Phone: 503-467-4067; Online website – Google by name
Hours: Mon-Thurs 9am-11pm; Fri-Sat 11am-10pm; Sun 12pm-9pm
Visitor Guide to Downtown Portland, Oregon