Cup and Saucer Cafe on SE Hawthorne Blvd. at SE 35th Ave
I didn't realize it at the time mostly because I've stuck primarily to my current neighborhood since moving here, but apparently Cup & Saucer Cafe is a bit of a franchise, with two other locations spread around the city. Now, I'm all for branching out, expanding, for businesses doing well with a product or service and growing, but always within reason and never too quickly. In this review, I'm only going to talk about my two experiences at the Southeast location of this pretty adequate, no-frills cafe.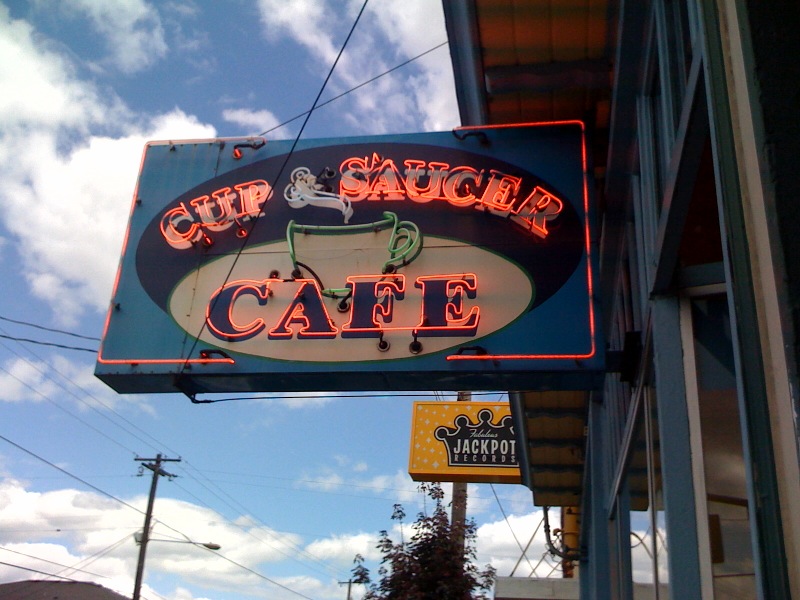 The first morning, my girlfriend and I had a small breakfast. This is a "walk down the street" kind of breakfast joint for us, and given the multitudes of diners and great looking local eateries on Hawthorne, it is taking us a while to hit all of them up. All in good time, I suppose. Anyway, we finally made it over to Cup and Saucer Cafe, which presents itself from its several street-facing windows as a somewhat cozy, pretty large mom and pop style breakfast cafe slash diner. That means, tables and chairs, a few booths, not too frilly on the decor, and a decent installation of local art on the walls.
Cup and Saucer Cafe: Breaking Down the Menu and Ambiance
When you walk into the cafe, you are essentially in the middle of the place, with the main dining hall to your left, and a smaller over-fill type of long dining area on your right. We did not get to eat on the west side of the restaurant during either of these experiences, where it seems to be a bit cozier as several back to back booths line the wall heading towards the back of the restaurant. I can imagine that a full-on weekend morning brunch with droves of people makes this section worth having. During both meals, we found a few tables taken up with diners of all stripes and several empty tables.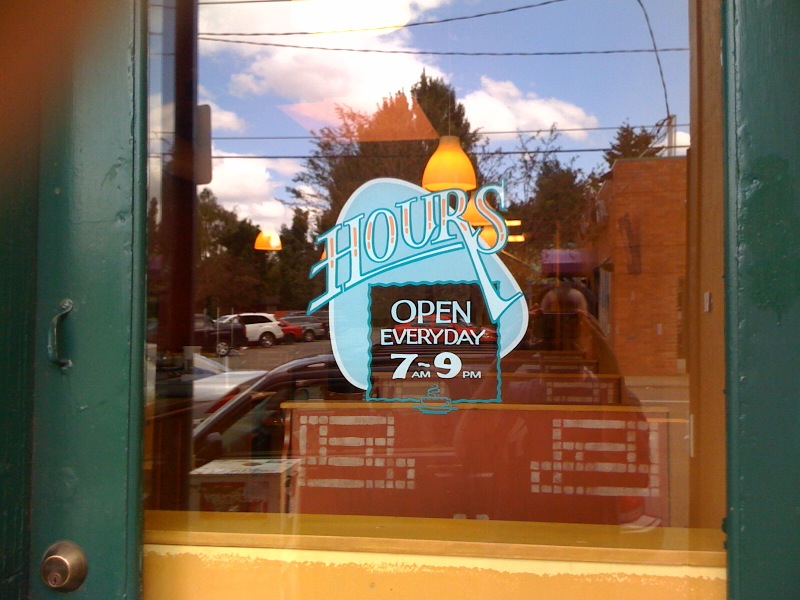 We love Eggs Benedict, and I've talked already about not liking the Hollandaise sauce to be too sweet. Again, the Hollandaise served with the Ham Benedict ($8.75) at the Cup & Saucer Cafe is pretty good, definitely more savory than sweet, and the eggs were good and tasty as well. The Cup and Saucer Cafe menu is pretty standard, though the few standout items do look quite good. I'm thinking mostly breakfast-wise about the World Famous Scramble ($8.50 for Three eggs scrambled with garden sausage, broccoli, cauliflower, zucchini, yellow squash, red pepper, mushroom, spinach, and cheddar). The Ham Benedict included as its twist on the classic, black Forest ham on an English muffin topped with two poached eggs and Hollandaise sauce, with potatoes.
I didn't think the portions were too out of control here, not sure if this is a state of the economy consideration or just a pretty average-sized dish kind of place. Our breakfast was served with really just an average amount of potatoes, nothing gigantic. Certainly, enough for a person to eat and get full, but not so much where you'd want to exclaim just how amazingly large the amount of food was. While we were eating this late breakfast, our waiter walked past with an amazing looking hamburger, which prompted me to return to the Cup & Saucer Cafe the next day to investigate.
I didn't love the burger above ($8.25), but I liked it just fine. Which to me, isn't good enough when there are so many restaurants out there, and several of them just about the same distance from my front door. Served with your choice of soup, salad, french fries, or tortilla chips, diners can also substitute the sweet potato fries for another buck. I opted for the side salad, which was also decent. In terms of specifics, I found the bread a little too large for the hamburger, and maybe more seedy and dry than I'd prefer. I really have to insist that beyond high-quality meat that is cooked well, the secret to a great burger is one's choice of bread, and when it's not that good to me, the experience seems to rate not that high, either.
I took a look at the main page of the Cup and Saucer site, and noticed some things that I really like to see. I'm sure I'm not alone as things shift more and more in our society, and especially in a city that is eco-conscious, the way that Portland seems to be. The owners and good people behind Cup and Saucer are proud of their efforts towards sustainable restaurant operation, and have committed themselves to use things like cage-free eggs "produced by hens on a diet containing no antibiotics or hormones." Further, the restaurant announces that they compost whatever food waste is leftover from diners' meals, and they are working to bring more organic and locally grown foods into their menu and restaurants, all the while staying conscious of keeping the meals affordable. Two things here: I think true die-hard environmental folks are willing to pay a bit more for food that is sustainably grown locally and organically; and two, though the politics are meaningful, if I'm going out to eat, I won't sacrifice flavor for politics.
I've read some mixed reviews on Cup and Saucer Cafe on all the regular sites, and a lot of people have said poor service, in general. I didn't have a terrible experience either visit, with pretty solid and attentive waiters both days. Again, I'm not looking to meet my best friend every single time I sit down for breakfast at a restaurant, but a friendly and witty personality or at least a good deal of warmth goes a long way to making up a complete, memorable experience. For my two cents, you won't necessarily be bothered by the service, but you won't be talking about it with your friends a few days later, either.
It can't be easy to keep any kind of business or restaurant open for twenty years, which Cup and Saucer Cafe has managed to do. As a final thought, I'll return to my original few opening sentences in this review. Maybe the restaurant is trying to keep one too many places open at once? I don't know what the exact nature of the problem might be, perhaps it's the twenty-years-in-breakfast syndrome. I'll try to put it down specifically. I found the experiences and the food just kind of, well,  less than exciting. The service, the food, the prices, the ambiance — none of it is very exciting or unique or special, and none of it gets delivered with much energy. Maybe I'm missing something, it's always possible, and it's surely not as if I ate 20 meals there in 20 days. But given all the extraordinary competition and a very savvy cult of food worshipers, I think it pays to be unique and special in every possible way, especially when you're in the restaurant game in Portland.
Cup and Saucer Cafe, SE Portland Pictures
Portland, OR Restaurant Details: Cup and Saucer Cafe
Cup and Saucer Cafe
3566 SE Hawthorne Blvd (on the south side of Hawthorne between SE 35th Pl and SE 36th Ave)
Portland, OR 97214-5142
Southeast
(503) 236-6001
Hours: 7am – 9pm every day
Portland, OR Restaurant Review: Cup and Saucer Cafe