Oregon has a thriving tourism industry that offers a diverse spectrum of opportunities for any personality type. No matter what you want to experience, chances are very good that you will find exactly what you're looking for here. Some of the most popular tourist attractions in Oregon are the outdoors. However, there are also a good amount of things to do and see at indoor locations throughout the state.
Best Natural Areas
Oregon has everything from sweeping mountain ranges to temperate rainforests and huge coastlines. There is a little something for everyone here, and you can find a lot of different tourist attractions and outdoor sightseeing tours.
Oregon contains some of the greatest diversity in landscapes in the United States. Everything from scrub to rainforest to coastline can be found in Oregon. The jagged peaks of northern and eastern Oregon have obtained a mythos all their own and have always been very popular as well.
Mt. Hood
Mt. Hood is the tallest mountain in Oregon and is surrounded by one of the largest national forests in the state. At 11,249 feet, Mt. Hood is a volcanic mountain that can be seen throughout most of northeast Oregon. It is a common tourist attraction in the state. People that are willing to throw on a backpack and head into the bush are going to get the most out of a trip to Mt. Hood. However, there are also a great many amenities on hand for motorized tourists to enjoy the surrounding landscape and get a good look at the mountain. Most visitors to the area spend a few nights at Mt. Hood Village just outside of the mountain park boundary.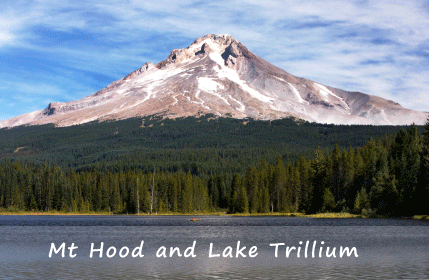 Mount Hood is arguably the most popular natural tourist attraction during the summer. It is around two hours from Portland, and there are a lot of different amenities surrounding the mountain that travelers can make use of. Mount Hood Village is a popular stop here that offers lodging and even camping space for those looking for a more rugged outdoor adventure.
Willamette National Forest
The Willamette is one of the largest national forests in the country and is home to some of the oldest trees left in the United States. It is not uncommon to find 500 year old or older trees in the forest right outside of Eugene. Eugene is a city that is roughly 2 hours south of Portland on the I-5 and it has a large number of dining, hotel and lodging opportunities to offer adventurous travelers.
Multnomah Falls
Only a short 35-minute drive from Portland International Airport, Multnomah falls is the most popular natural attraction near the Portland area. There is a lodge at the falls that has a full menu, and there are a number of amenities in the surrounding area.
Multnomah falls is the tallest waterfall in Oregon and is part of an immense concentration of high waterfalls. In fact, there are so many high waterfalls in this area that they called their mountain home the Cascade Mountains. Multnomah falls is 620 feet tall and reaches the crest of its power in the early spring as the mountain snowpack begins to melt and run downhill. There is a lodge and restaurant right at the waterfall.
The Oregon Coast
From Cannon Beach in the north to the Great Dune Sea in the south, the coast of Oregon offers some truly exceptional experiences. Due to its proximity to Portland, Cannon Beach is known as a very popular getaway spot for people from Portland. There is an enormous sandcastle competition on the beach every June that always draws a very large crowd.
The Oregon Dunes are a very unique area in Oregon. It is an area of roughly 40 square miles of enormous sand dunes that make you feel as though you're in the Sahara. The dunes are shifting and mountainous. They are roughly four hours south of Portland along the coast, and there is a campground right at the entrance of the park.
Whale Watching
There are two good times for whale watching on the Oregon coast every year. From March through June, eighteen thousand gray whales migrate past Oregon on their way to feeding grounds in the Bering Sea of Alaska. From December through January, they migrate past Oregon once again on their way to the warm waters of Mexico. Each time, they create a big stir, and it is a huge event every year. Cannon Beach is around two hours from Portland and is a very popular destination for whale watching during this time.
Best Urban Spots
Portland and Eugene are two very popular destinations with travelers to Oregon. Many people also make their way over to Bend for a visit during their stay.
Portland
Portland is a bustling metropolitan center that has a thriving business and arts community. The architecture, arts, and natural landscapes of Portland are a consistent representation of what you will find in most of Oregon. If you were to visit Portland without plans to leave the city, then you could easily get away with not renting a car or taking a taxi for your entire trip. Portland has one of the most advanced public transit systems in the United States and this makes public transport very popular. You could easily get anywhere in town using the tram, the train, or the bus.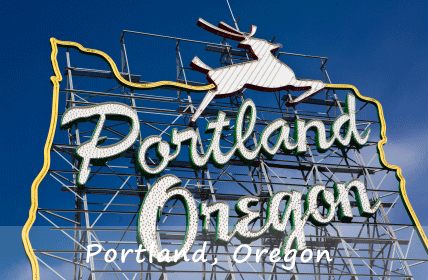 Indoor Venues in Portland
The fun doesn't stop with the outdoors in Oregon. There are quite a few family-friendly venues around the state that can offer an interesting time for tourists. Also, there are a number of attractions for adults in the city.
Kidd's Toy Museum
Kidd's Toy Museum is dedicated to the unique toy collection of collector Frank Kidd. Many of the toys give a unique look into the heritage of the United States, and many more offer an interesting perspective on the Pacific Northwest. The collection features a number of different iron toys, porcelain dolls, and a number of other interesting antique toys. The collection of rare Pacific Northwest-themed toys is especially popular with visitors here.
The Oregon Zoo
The Oregon Zoo, is one of the most highly-rated zoo facilities in the country. It is home to a large number of unique and exotic animals that are all part of a well-developed educational program. The zoo focuses its efforts on education and aims to impart a passion for conservation to all of its guests. One of the most popular parts of the zoo is the indoor sea lion viewing tank. The tank has a lot of different viewpoints that give visitors the ability to see the sea lions from a number of different angles. This makes the zoo a unique place to get in touch with wildlife.
North Clackamas Aquatic Park
This water park is a truly unique experience if you are visiting the Portland area. It is a fully indoor aquatic park that has a diverse range of interesting slides for visitors to enjoy. The indoor park is climate-controlled, so you don't have to worry about Portland's notoriously rainy weather washing out your day of fun. It is one of the most popular attractions in the area for both Portland natives and visitors.
Oregon Brewery Tours
There are a lot of breweries in the Portland area that offer completely free tours of their facilities. These are a popular way for visitors to soak in an important part of the culture of Portland. Breweries are an important part of what it means to visit Portland, and most of them offer daily tours that you can just show up for.
Eugene, OR
Eugene is a popular stop for tourists on their way to Bend, Ashland, and even northern California. It is nestled within the center of the Willamette valley and offers a wide range of recreational opportunities.
Attractions and Theme Parks in Oregon