Explore Bayfront in Newport Oregon
Newport is a small town on the Pacific Coast in Oregon where the Yaquina River flows into Yaquina Bay. The Bayfront area has been transformed into an entertainment center with shopping and restaurants.
The area now attracts tourists and the in-crowd, but still retains its ambiance as a fishing village.
Newport, Oregon Bayfront Activities
On the historic bayfront in Newport, Oregon, visitors can stroll along piers where the fishing fleet ties up, browse shops and galleries, and glimpse an undersea world.
Newport, on the Oregon Coast, has ocean beaches, quaint shops, and a world-class aquarium. But the historic bayfront, where fishing boats tie up and sell their catch, is one of its most delightful districts. Along bustling Bay Boulevard, you can glimpse the hidden ocean world at the Undersea Gardens, find a likeness of Marilyn Monroe at the Wax Museum, view oddities at Ripley's Believe It or Not, browse art galleries, or book a sportfishing excursion. A stop at one of the many bayfront pubs or restaurants can complete your day.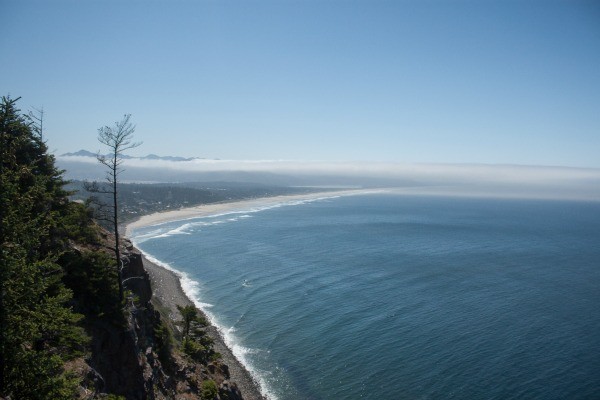 Befitting its heritage as a seaside village, there are fishing and whale watching tours that leave from the bayfront piers. The trips offer great views of the Bay Bridge, beyond which lies the might Pacific Ocean.
There are a number of gift shops on the Bayfront, as well as the Undersea Gardens. Other area attractions include the Hatfield Marine Science Visitor Center, Marine Discovery Tours Ripley's, and The Wax Works.
The Newport area is a popular tourist destination in summer to enjoy the mild days on the beaches of the Pacific Ocean. Any time is a good time to enjoy the restaurants and fun of the Newport Bayfront.
What to See
A good place to begin an exploration along the bayfront is at the piers lining the water. Here boats from Newport's fishing fleet unload their fish while processors cut and package them. Watch the sea lions lounging on the docks and buy fresh-caught fish to take home.
From the docks, continue your exploration along Bay Blvd., where shops and galleries cater to visitors. At Mariner Square (250 SW Bay Blvd., 541-265-2206), the following trio of attractions is worth a stop.
Undersea Gardens – Here's your opportunity to view marine creatures, from colorful sea anemones to the giant octopus, all in their natural habitat. Tour guides lead you through the experience.
Wax Works – Meticulously molded life-size sculptures of historic figures and events, story-book creatures, Hollywood legends, and much more have attracted visitors for decades.
Ripley's Believe It or Not – Collected curiosities of Robert Ripley on display here include a magic harp, shrunken heads, and the hall of mirrors.
The cost of individual Mariner Square attractions is $9.95 for adults or $5.95 for children. The cost for all three is $21.90 for adults or $12.90 for children. Age 4 and under enter free.
Bayfront Sportfishing & Whale Watching
From the docks of the bayfront, a number of charter boats take visitors out for a day of fishing or whale watching. Fishing charters specialize in various catches, including bottom and rockfish, salmon, halibut, tuna, and crab. While many charters operate year-round, the type of fish available may depend on the seasons. Charter companies operating on the bay include the following:
Bayfront Charters, 890 SE Bay Blvd. Phone toll-free at 1-800-828-8777.
Captain's Reel Deep Sea Fishing, 343 SW Bay Blvd., Phone toll-free at 1-800-865-7441.
Newport Trade Winds, 653 SW Bay Blvd. Phone toll-free at 1-800-676-7819.
Marine Discovery Tours, 345 SW Bay Blvd. Phone toll-free at 1-800-903-2628. This company offers ocean, bay, and river tours, whale watching, and sea life tours.
Newport Restaurants and Pubs
The entire Bayfront area, about one half mile long, is lined with bars, restaurants, and shops. Seafood is most popular here, headed Oregon Coast tradition Mo's at 622 SW Bay Blvd (541-265-7512).
Mo's Annex is right across the street on the water. Both are famous for chowder, but the popular broth can also be found next door at Fish Peddler's Market Restaurant (541-265-7057). The list of seafood choices at these and other seafood restaurants on Bay Street is extensive, the atmosphere casual, and the prices reasonable (under $10 for most selections).
If you don't have any particular restaurant in mind, take some time to stroll up and down the Bayfront and view the menus of the various establishments. Reservations are not taken at many places, and there can be a wait on weekend evenings.
The smells of coffee and fresh-made donuts entice amblers on Bay Street, surprising hawked by a Pittsburgh Steelers fan, out in the Great Northwest.
Several restaurants offer quick meals of pizza, and the Rouge Ale's Public House (748 Bay Blvd. 541-265-3188 offers specialty beers and a wide variety on the menu.
Newport's fish catch is the specialty of many restaurants on the bayfront, where lunch and dinner range from casual to formal. Below are two popular spots.
Canyon Way Restaurant and Bookstore (1216 SW Canyon Way, 541-265-8319) – This restaurant has been a favorite Newport spot for decades. Situated on a hill overlooking the bayfront, the setting is scenic and the food delicious. The menu includes seafood and a wide range of other choices. The outdoor patio is ideal for summer days. After a meal or a cup of espresso, don't forget to browse the extensive book selections.
Rogue Ales Public House (748 SW Bay Blvd., 541-265-3188) – Rogue is brewed in Newport and has long been one of Oregon's favorite local brews. It's served here in a relaxed style, along with an extensive menu of tasty lunches, dinners, and appetizers.
The Yaquina River
The Yaquina River feeds the bay at Newport and flows through a scenic valley. As Bay Blvd. winds east, it becomes Yaquina Bay Rd. and follows the river for about 10 miles inland. It's a lovely drive past an oyster farm and piles of oyster shells, picturesque docks, old fishing villages, and quiet rural scenery. At the town of Toledo, where the road ends, you can catch Highway 20 to Corvallis and easy access to Interstate 5, the main highway leading to major Oregon cities of Portland, Salem, and Eugene.
Getting to the Newport Bayfront
From Highway 101 (Pacific Coast Highway) in Newport, turn south on SW Canyon Way and follow it to SW Bay Blvd. Coming from the east on Highway 20 (Corvallis-Newport Highway), turn south on SE John Moore Rd. before you reach Highway 101.
Yaquina Bay: Newport's Historic Bayfront