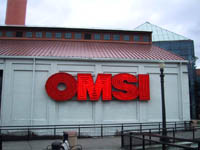 Looking for things to do in Portland? Portland is always moving and bustling with lots of activities. Want to grab a bite to eat? Maybe a cool festival is going on this weekend at the waterfront. Go ahead, take a look. Below you'll find some of our recommendations. There's plenty of great attractions to check out in the city. Check out what we recommend.
Oregon Museum of Science and Industry (OMSI)
Omsi is an educational museum with five exhibit halls and eight science labs. Featuring over 200 interactive exhibits, the five-story high Omnimax Theater, and the Northwest's largest planetarium, OMSI is an especially popular destination for school field trips as well as families. Tours of the USS Blueback, a diesel-powered U.S. Naval submarine, are also available at OMSI.
» www.omsi.edu
» 503.797.4000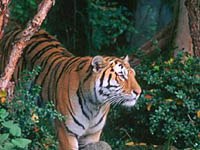 Oregon Zoo
The Oregon Zoo has won many national awards for its natural exhibits that feature twelve main areas of the world from the West African tropics to the Alaskan tundra. The zoo has one of the most successful Asian Elephant breeding programs in the world. The Oregon Zoo is located five minutes from downtown Portland and is accessible via MAX light rail. The months of July and August bring annual summer concerts at the zoo featuring a variety of music at the outdoor amphitheater. In December, the zoo hosts a winter wonderland of lights, including a lighted zoo train. Other events are held throughout the year.
» www.oregonzoo.org
» 503.226.1561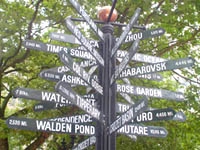 Portland Walking Tours
The Portland Walking Tours offer guided walking tours that explore the history and unique features of Portland. Popular tours include, The Best of Portland Walk, A Walk Through Time, and the Mother of Pearl District tour, along with special tours for private and various groups. These tours are held every Thursday, Friday, Saturday, and Sunday. In addition, from April through December the Pearl District hosts three-hour "Epicurean Excursion" walking tours every Saturday beginning at 10:30 a.m. in Pioneer Square. Each excursion has a different food-based theme pertaining to various shops or restaurants in the neighborhood (Bridgeport Brewery, Pearl Bakery).
» www.portlandwalkingtours.com
» 503.774.4522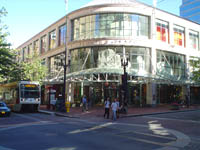 Shopping In the City
A dollar goes a long way with Portland's zero percent sales tax. Favorite local shopping haunts include the Pearl District for its hip, international flavor, and Northwest 23rd Avenue between Burnside and Thurman Streets, which is often called "trendy-third" for its fashionable restaurants and boutiques. Bridgeport Center, a California-style village, is the newest upscale shopping arena in the Portland metro area and is located just off I-5 in Tualatin. The suburbs of Portland also have the usual mix of shopping malls and strip shopping centers.
Portland Saturday Market
On its 33rd season, the Portland Saturday Market, the largest outdoor arts and crafts market in the nation is a must-see for visitors to the Portland area. It's located under the Burnside Bridge near the waterfront.At the market, you'll find hundreds of booths filled with hand-made local art, pictures, hats, clothing, and misc. items. One year I bought a really cool wind-chime made out of silverware for a friend. They loved it!
When you're there, take your time when you walk through the market. Sometimes you have no choice but to take your time. Sometimes the aisles get so congested by a lot of people shopping. Check out paper lamps and nightlights at the Blue Tree Gallery. Decorative hanging glass and copper vases are available at Copperworks by Dana Godfrey. There's a couple of massage services available as well.
Need a treat? Visit Gabriel's Bakery. They feature scrumptious bread and pastries. Don't forget to stop by Wild Sweets Factory. Everything there is handmade and delicious.
If you get hungry, take your pick from the large selection of international foods available. My favorite is the Gyros. Extra feta cheese, please! After that, we usually top it off with an elephant ear! Yummy!
With your food enjoy great live music at the main stage in the food court. Last time I was there, a bluesy band played right in the food court. They were great. Over by skidmore fountain, a group of kids and adults were jamming on xylophones in all sorts of shapes and sizes. There's so much entertainment! It's a very festive atmosphere.
Saturday Market is a great way to spend the day. You'll always find there's something going on. Do you have children? Create arts and crafts at the kid's activity booth.
The atmosphere is worth the trip. Portland Saturday Market celebrates diversity and people and there's something for everyone. You should visit next time you're in town.
Hours of Operation: Saturdays 10 – 5pm Sundays 11 -4:30pm. Open every weekend from March through Dec. 24th.
Portland Arts & Music
Portland Center Stage
Constructed during the spring and summer of 1891, and formally dedicated in September of that year, the Annex initially provided local units of the Oregon National Guard quartered in the three year old main Armory located on the south half of the same block with more space for drill maneuvers, as well as an underground firing range for all-season target practice.
The fortress like Annex with its thick walls, reinforced wooden doors, loopholes, turrets, and crenellated parapets played another, no less significant role in the city. Given the era's ongoing worries about mob violence and fears of class warfare, and given the numerous anti-Chinese riots that had recently taken place up and down the Pacific coast, most Portland residents would have welcomed the building as both a symbol of power, strength, and security, and as a constant reminder of military authority during unsettled times.
From the beginning, the Gerding Theater at the Armory was envisioned as much more than a new venue for live performance. Partners agreed that this new community destination should stand as a testament to and celebration of the values that have given Portland its distinctive character and national reputation. It's no secret that sustainability ranks highly on the short list of core Portland values. For 2006, Sustainlane.com ranked Portland as number one in the nation for overall sustainability, and cities around the world have long looked our way for benchmarks of community planning and sustainable development.
Gerding Theater at the Armory
128 NW Eleventh Avenue Portland
Oregon 97209
503-445-3700
www.pcs.org
Do Jump! Extremely Physical Theater
Do Jump! performances combine a creative mix of dance, acrobatics, and aerial work to engage and delight the audience. The company is well-known throughout the U.S. and Canada. Local performances are held at the Echo Theater in the Hawthorne District.
» www.dojump.org
» 503.231.1232
The Oregon Ballet Theatre
Under the direction of Christopher Stowell, the Oregon Ballet Theatre performs five programs a year at the Portland Center for the Performing Arts and includes works of George Balanchine and Jerome Robbins.
» www.obt.org
» 503.2BALLET (tickets)
The Portland Symphony
The internationally-known Oregon Symphony is led by Music Director Carlos Kalmar and resident conductor Gregory Vajda. Over 120 classical as well as pops concerts are performed yearly at the Arlene Schnitzer Concert Hall in downtown Portland.
» www.orsymphony.org
» 503.228.1353
» 800.228.7343
Portland Opera
Portland Opera exists to inspire, challenge and uplift our audiences by creating productions of high artistic quality that celebrate the beauty and breadth of opera. Situated near the confluence of the Willamette and Columbia rivers, the city of Portland attempted, with varying degrees of success in its early years, to build its own opera company. Touring troupes and a variety of local companies provided the city with interesting, if sporadic, operatic entertainment until Portland Opera was firmly established in 1964. From 1964 to 1966, the organization's general director and conductor was Henry Holt. At his departure, the baton was passed to Herbert Weiskopf, and after his death in 1970 to Stefan Minde, whose tenure extended through the 1983-84 season. Robert Bailey led the company until his retirement in 2003, when Christopher Mattaliano was named the company's fifth general director.
In 2005, the Company established the Portland Opera Studio Artists program, designed to train the next generation of opera singers by providing a "bridge" from the conservatory world to the professional stage. Selected at auditions around the country, young singers fresh from some of the nation's finest vocal conservatories join the company for a rigorous nine-month training program, during which they are featured in their own production. Productions of The Rape of Lucretia in 2005, The Return of Ulysses in 2006, and Albert Herring in 2007 were so successful that the Studio Production was moved to the Newmark Theatre where the Company could accommodate the quickly growing audience while maintaining the all-important intimacy associated with these productions. Patrons also enjoy the Studio Artists' work in supporting roles in Company mainstage productions at the Keller Auditorium.
The Portland Opera performances are held in Keller Auditorium from September to May.
The Hampton Opera Center
211 SE Caruthers St
Portland, OR 97214
503-241-1407
fax: 503-241-4212
www.portlandopera.org
Portland Sports
For avid sports aficionados, Portland has one major league, professional sports team, as well as several minor league teams. The Portland Trail Blazers, the city's basketball team, is just one of Portland's proudest.
Baseball
The Portland Beavers are Portland, Oregon's minor league team. They are a triple-A, Pacific Coast League affiliate of the San Diego Padres. Home games are played at PGE Park.
» www.portlandbeavers.com
» 503.553.5400
Basketball
Portland loves basketball and they love the Portland Trailblazers, even with the wave of problems that the players have experienced the past few years. With a new Head Coach, Nate McMillan, the Blazers and their fans are ready for a new, and hopefully winning, season.
» www.nba.com/blazers
» 503.797.9600 (tickets)
Golf
There are over 60 public and private golf courses in the Portland Metro area. Several are well-known championship courses, notably Pumpkin Ridge Golf Club and the Reserve Vineyards & Golf Club.
» www.pumpkinridge.com
» 503.647.9977
» www.reservegolf.com
» 503.526.9331
Soccer
The Portland Timbers Soccer team plays under the direction of head coach Bobby Howe. It is a USL first division team. Home games are played at PGE Park.
» www.portlandtimbers.com